WTI Crude Oil: general review
13
March
2019, 09:15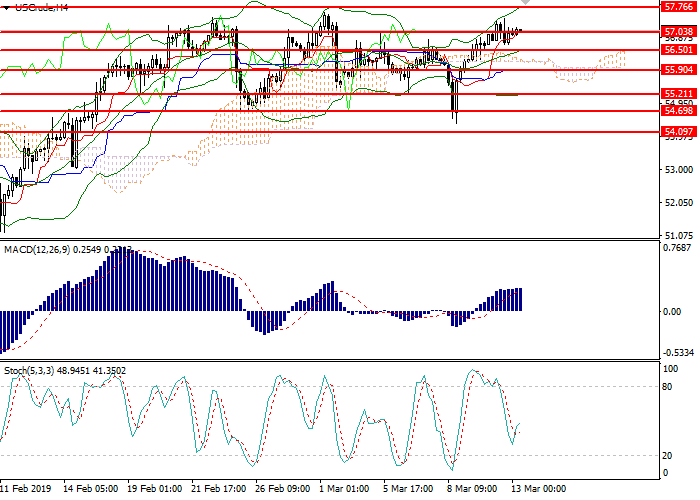 Scenario
Timeframe
Intraday
Recommendation
BUY
Entry Point
57.15
Take Profit
57.76
Stop Loss
56.80
Key Levels
54.10, 54.70, 55.21, 55.90, 56.50, 57.76, 58.38
Alternative scenario
Recommendation
SELL STOP
Entry Point
56.75
Take Profit
55.95
Stop Loss
57.10
Key Levels
54.10, 54.70, 55.21, 55.90, 56.50, 57.76, 58.38
Current trend
On Tuesday, WTI crude oil traded in both directions and ended the day with minimal growth amid falling stocks in the USA.
According to API, reserves in the United States decreased by 2.58 million barrels for the week. The instrument is also supported by a drop in production in Venezuela due to problems with power supply. At the same time, OPEC represented by Saudi Arabia signals about its readiness to extend the agreement to reduce production. However, the possibilities of the cartel are not endless.
Today at 16:30 (GMT+2), Energy Information Administration (EIA) will publish its report on weekly changes of commercial oil and petrochemicals reserves. Their reduction will allow the instrument to consolidate above the key resistance level of 57.70.
Support and resistance
On H4 chart, the instrument is testing a strong resistance level of 57.00. Bollinger Bands are directed upwards, and the price range is expanding, indicating the continuation of the uptrend. MACD histogram is in the positive zone maintaining the buy signal. Stochastic does not give a clear signal for entering the market.
Support levels: 56.50, 55.90, 55.21, 54.70, 54.10.
Resistance levels: 57.03, 57.76, 58.38.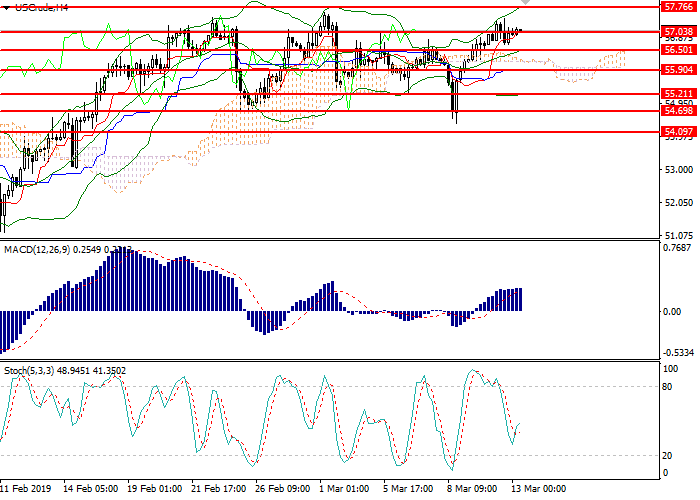 Trading tips
Long positions may be opened from the current level with the target at 57.76 and stop loss at 56.80.
Short positions may be opened below 56.80 with the target at 55.95 and stop loss at 57.10.
Implementation period: 1-2 days.