USD/JPY: dollar is strengthening
14
March
2019, 08:47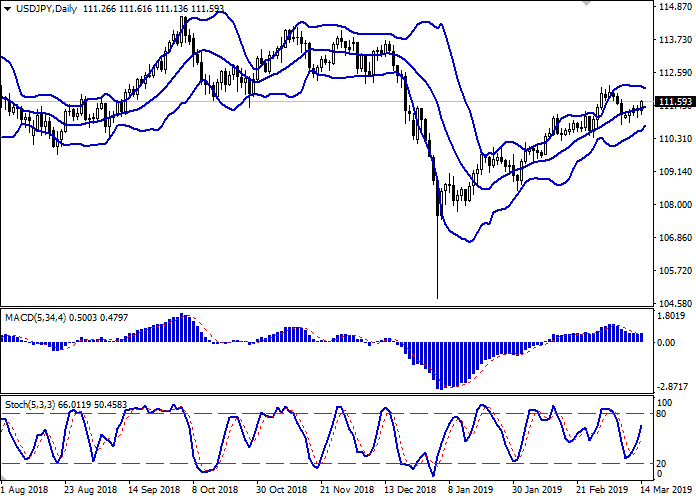 Scenario
Timeframe
Intraday
Recommendation
BUY STOP
Entry Point
111.90
Take Profit
112.40, 112.65
Stop Loss
111.60
Key Levels
110.68, 110.93, 111.22, 111.50, 111.84, 112.12, 112.40, 112.65
Alternative scenario
Recommendation
SELL STOP
Entry Point
111.25, 111.15
Take Profit
110.68, 110.45
Stop Loss
111.50, 111.60
Key Levels
110.68, 110.93, 111.22, 111.50, 111.84, 112.12, 112.40, 112.65
Current trend
USD is rising against JPY, supported by fairly optimistic market sentiment and moderate investor interest in risk. Published on Wednesday, US macroeconomic statistic failed to meet all expectations of analysts but was good enough against the Japanese one. In January, Capital Goods Orders excluding defense and aviation rose by 0.8% MoM after falling by 0.9% MoM last month. The experts counted on growth by only 0.1% MoM. However, February's Producer Price Index rose by only 0.1% MoM and 1.9% YoY, with forecasts of 0.2% MoM and 1.9% YoY. Japanese statistic reflected a sharp decline in Core Machinery Orders. In January, the indicator fell by 5.4% MoM and 2.9% YoY against the expectations of –1.7% MoM and –2.3% YoY.
Support and resistance
On the daily chart, Bollinger bands grow moderately. The price range narrows, reflecting the emergence of mixed dynamics in the short term. The MACD smoothly reverses upwards, forming a poor buy signal (the histogram is above the signal line). Stochastic grow more confidently but approached its highs, which indicates that USD may become overbought in the super-short term.
It is better to keep current long positions in the short and/or super short term until the situation is clarified.
Resistance levels: 111.84, 112.12, 112.40, 112.65.
Support levels: 111.50, 111.22, 110.93, 110.68.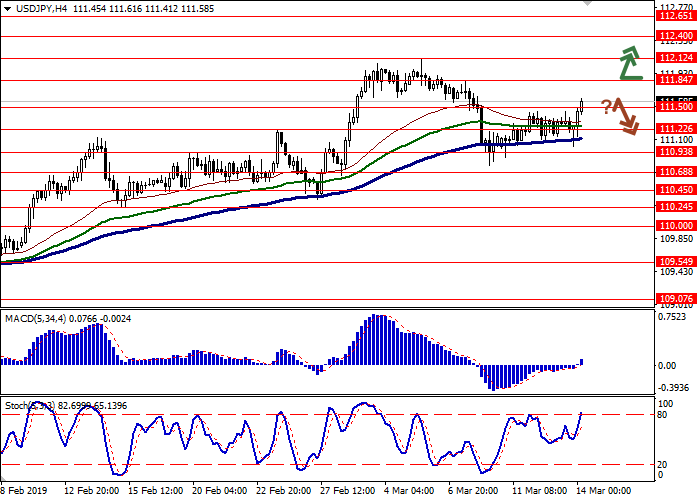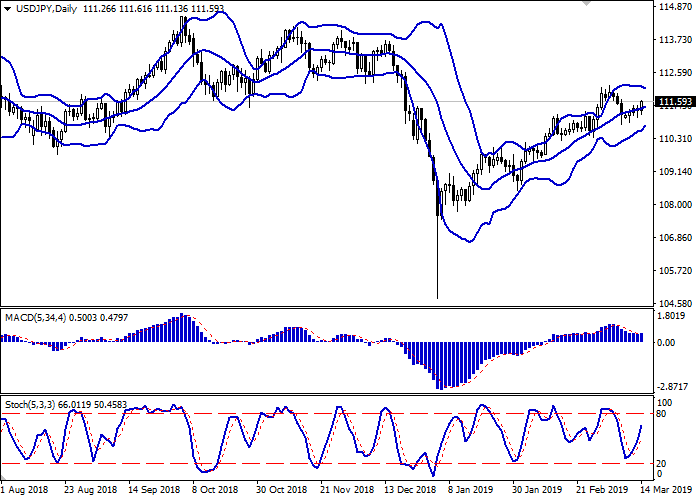 Trading tips
Long positions can be opened after the breakout of 111.84 with the target at 112.40 or 112.65. Stop loss – 111.60.
Short positions can be opened after a reversal near current levels, followed by a breakdown of 111.30–111.22 with the target at 110.68 or 110.45. Stop loss is 111.50–111.60.
Implementation period: 2–3 days.