USD/CHF: instrument consolidated
13
March
2019, 09:13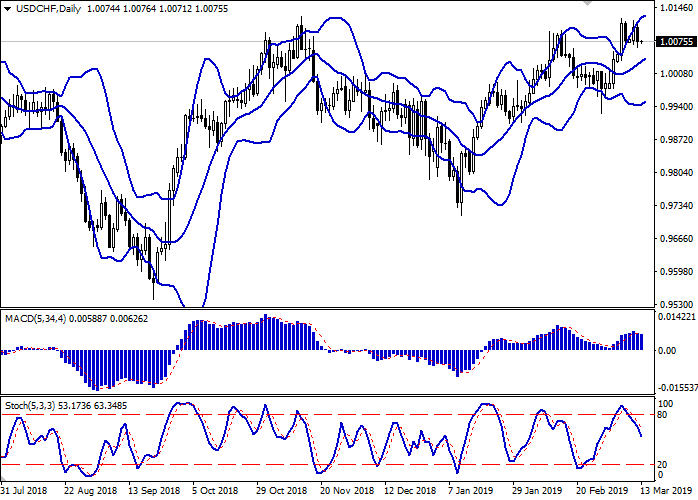 Scenario
Timeframe
Intraday
Recommendation
BUY STOP
Entry Point
1.0100
Take Profit
1.0149
Stop Loss
1.0070
Key Levels
1.0149, 1.0123, 1.0097, 1.0062, 1.0041, 1.0023, 1.0000
Alternative scenario
Recommendation
SELL STOP
Entry Point
1.0055
Take Profit
1.0023, 1.0000
Stop Loss
1.0080, 1.0085
Key Levels
1.0149, 1.0123, 1.0097, 1.0062, 1.0041, 1.0023, 1.0000
Current trend
Yesterday, USD fell against CHF, departing from local highs, updated on Monday and at the end of the last trading week, due to the ambiguous US macroeconomic statistics. The February consumer price index rose by 1.5% YoY. In January, the price increase was +1.6% YoY. The indicator excluding food and energy prices slowed down from +0.2% MoM to +0.1% MoM. In annual terms, the index rose by 2.1% YoY after a gain of 2.2% YoY last month. During the Asian session on March 13, the pair is trading near the zero level, awaiting the appearance of new drivers in the market.
Today, investors will focus on statistics on industrial production in Europe, as well as speeches by representatives of the ECB. In the US, January's Durable Goods Orders and data on February's Producer Price Index will be released.
Support and resistance
On the daily chart, Bollinger bands grow moderately. The price range narrows slightly, reflecting the emergence of mixed trading dynamics in the short term. The MACD falls, keeping a weak sell signal (the histogram is below the signal line). Stochastic declines in the center of its working area. The current indicators' readings allow the further development of the "bearish" correction in the short and/or super short term and do not contradict the development of negative USD dynamics.
Resistance levels: 1.0097, 1.0123, 1.0149.
Support levels: 1.0062, 1.0041, 1.0023, 1.0000.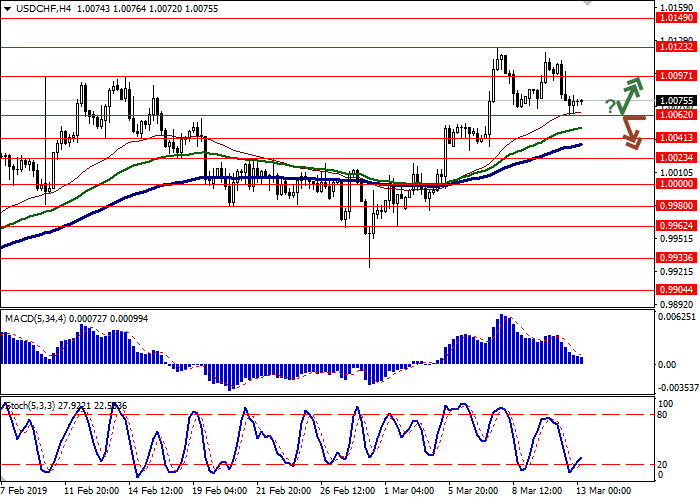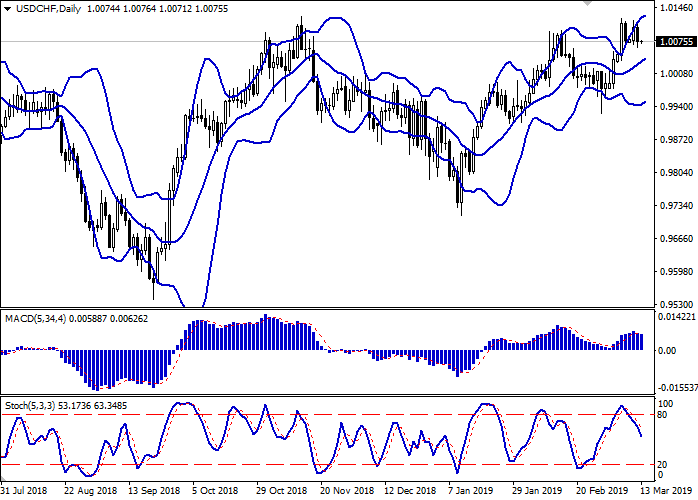 Trading tips
Long positions can be opened after a rebound from 1.0062 and the breakout of 1.0097 with the target at 1.0149. Stop loss – 1.0070. Implementation period: 1–2 days.
Short positions can be opened after the breakdown of 1.0062 with the target at 1.0023 or 1.0000. Stop loss – 1.0080–1.0085. Implementation period: 2–3 days.