USD/CAD: US dollar remains under pressure
14
March
2019, 09:10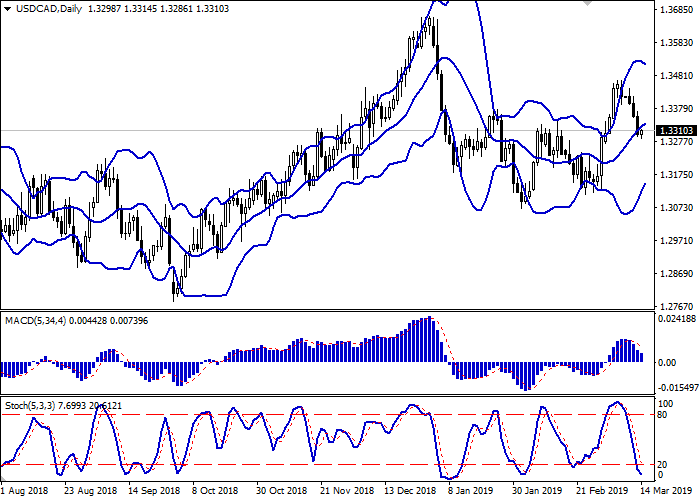 Scenario
Timeframe
Intraday
Recommendation
BUY STOP
Entry Point
1.3330, 1.3345
Take Profit
1.3400, 1.3430, 1.3466
Stop Loss
1.3310, 1.3290
Key Levels
1.3149, 1.3200, 1.3241, 1.3284, 1.3327, 1.3370, 1.3400, 1.3466
Alternative scenario
Recommendation
SELL STOP
Entry Point
1.3280
Take Profit
1.3200
Stop Loss
1.3310, 1.3320
Key Levels
1.3149, 1.3200, 1.3241, 1.3284, 1.3327, 1.3370, 1.3400, 1.3466
Current trend
Yesterday, USD declined significantly against CAD, retreating to the lows of March 4. The reason for the emergence of negative dynamics was poor US Industrial Inflation macroeconomic statistic. However, Durable Goods Orders data moderately supported USD.
During the Asian session on March 14, the instrument is trading in an upward manner, which is mainly due to technical factors. The market responds to published poor Chinese industrial production statistics, which continues to signal the risks of a further slowdown in the PRC economy.
Today, investors are focused on American statistics New Home Sales in January, as well as on Jobless Claims data at the beginning of March.
Support and resistance
On the daily chart, Bollinger bands are growing moderately. The price range is actively narrowing, reflecting the mixed nature of trading in the medium term. The MACD indicator goes downwards, keeping a strong sell signal (the histogram is below the signal line). Stochastic is directed downward but is in close proximity to the zero line, which indicates that USD may become strongly oversold in the super-short term.
It is better to keep current short positions until the situation is clarified.
Resistance levels: 1.3327, 1.3370, 1.3400, 1.3466.
Support levels: 1.3284, 1.3241, 1.3200, 1.3149.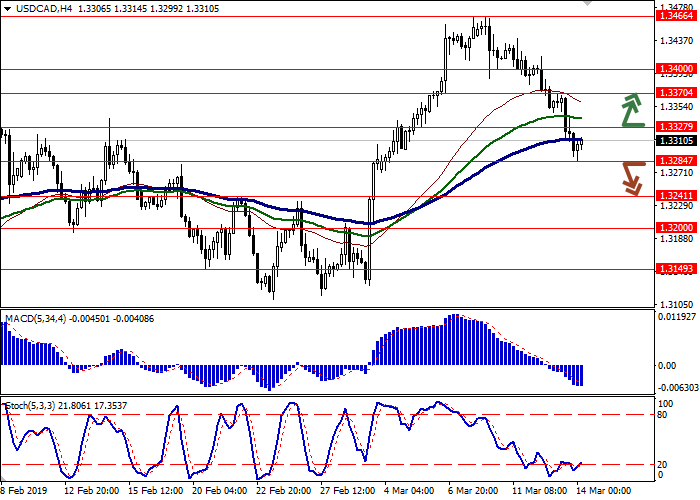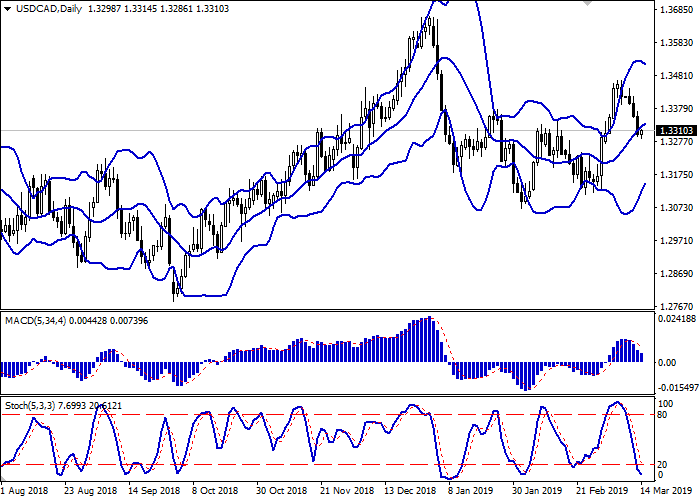 Trading tips
Long positions can be opened after the breakout of the levels of 1.3327–1.3340 with the targets at 1.3400 or 1.3430–1.3466. Stop loss is 1.3310 or 1.3290.
Short positions can be opened after the breakdown of the level of 1.3284 with the target at 1.3200. Stop loss is 1.3310–1.3320.
Implementation period: 2–3 days.