GBP/USD: general review
14
March
2019, 08:51
Scenario
Timeframe
Intraday
Recommendation
BUY STOP
Entry Point
1.3305
Take Profit
1.3400, 1.3450
Stop Loss
1.3250
Key Levels
1.3000, 1.3067, 1.3134, 1.3183, 1.3216, 1.3300, 1.3349, 1.3400
Alternative scenario
Recommendation
SELL STOP
Entry Point
1.3210, 1.3175
Take Profit
1.3067, 1.3040, 1.3000
Stop Loss
1.3250, 1.3270
Key Levels
1.3000, 1.3067, 1.3134, 1.3183, 1.3216, 1.3300, 1.3349, 1.3400
Current trend
GBP rose significantly against USD on Wednesday, rising to new record highs since June 14. After the failure of the vote on the Brexit deal in the Parliament on March 12, which caused the emergence of ambiguous dynamics, the pound is trading positively. Yesterday, the Parliament also rejected the idea of a country leaving the European Union without the deal, which leads Prime Minister Teresa May to the only possible way out of the situation.
On March 14, there will be the third vote, on the postponement of Brexit. May once again called on parliamentarians to approve the current version of the deal, since, without an agreement, the UK would have to ask for a longer delay. There are quite a few Brexit opponents, who will definitely try to lobby for a re-referendum. Also, in May, regular elections to the European Parliament will be held.
Support and resistance
Bollinger Bands in D1 chart show moderate growth. The price range is expanding, following the significant increase in volatility over the past few days. MACD is growing preserving a stable buy signal (the histogram is above the signal line). Stochastic, approaching its maxima, tends to reverse downwards, reflecting the growing risks of correctional dynamics.
The showings of the indicators do not contradict the further development of the "bullish" trend in the short and/or ultra-short term.
Resistance levels: 1.3300, 1.3349, 1.3400.
Support levels: 1.3216, 1.3183, 1.3134, 1.3067, 1.3000.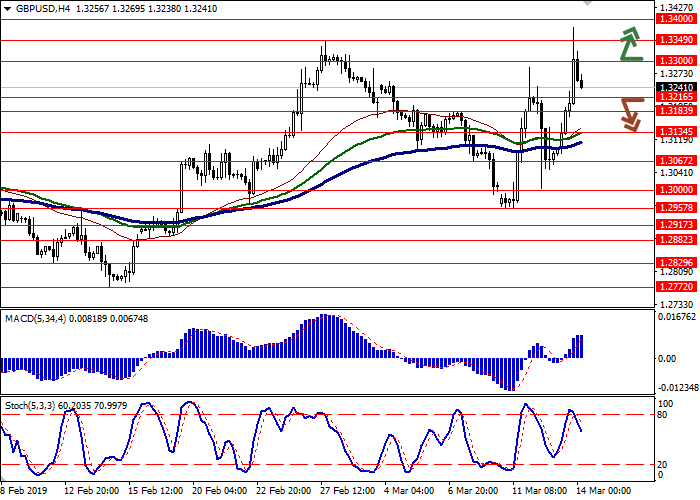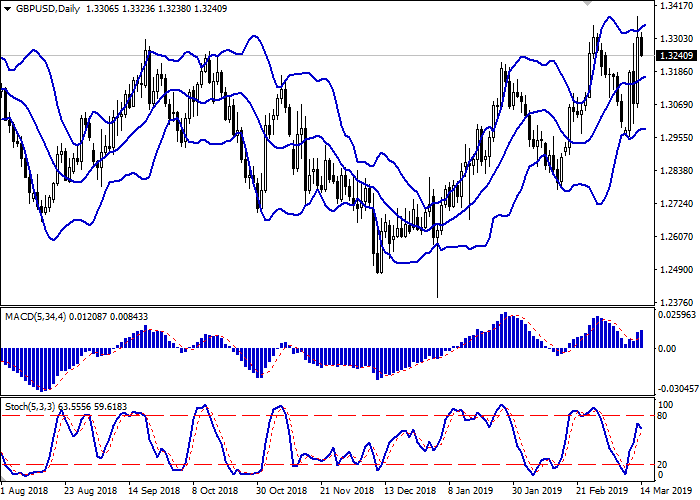 Trading tips
To open long positions, one can rely on the breakout of 1.3300. Take-profit — 1.3400-1.3450. Stop loss – 1.3250. Implementation period: 1-2 days.
The development of "bearish" dynamics with the breakdown of 1.3216 or 1.3183 may become a signal to correctional sales with the target at 1.3067-1.3040 or 1.3000. Stop loss – 1.3250-1.3270. Implementation period: 2-3 days.