EUR/USD: euro strengthened
13
March
2019, 08:48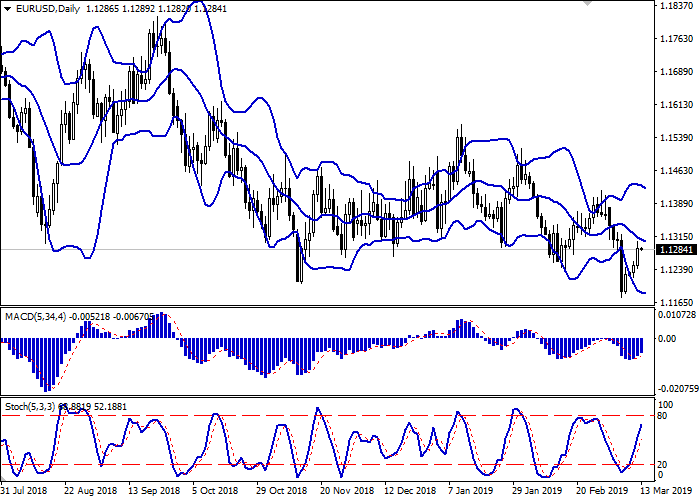 Scenario
Timeframe
Intraday
Recommendation
BUY STOP
Entry Point
1.1305, 1.1320
Take Profit
1.1351, 1.1370
Stop Loss
1.1270
Key Levels
1.1175, 1.1207, 1.1233, 1.1255, 1.1288, 1.1313, 1.1351, 1.1370
Alternative scenario
Recommendation
SELL STOP
Entry Point
1.1265, 1.1250
Take Profit
1.1207, 1.1175
Stop Loss
1.1288, 1.1300
Key Levels
1.1175, 1.1207, 1.1233, 1.1255, 1.1288, 1.1313, 1.1351, 1.1370
Current trend
Yesterday, EUR significantly increased against USD, renewing the highs of March 7 after the publication of ambiguous US CPI data. In addition, investors are still responding to the report on the US labor market, which was published at the end of last week. By the close of the afternoon session, EUR entered a correction in response to the results of the British parliament's Brexit vote. As expected, despite the efforts of Prime Minister Theresa May and the receipt of a number of concessions on the Irish border, parliamentarians rejected another agreement. Now the country is waiting for a vote to leave the EU without a contract. If it fails (and the likelihood of this is extremely high), on March 14, Parliament will vote to postpone Brexit.
On Wednesday, investors wait for January EU Industrial Production release and speeches of ECB representatives Yves Mersch and Benoit Coeure.
Support and resistance
On the daily chart, Bollinger bands moderately fall. The price range varies slightly and remains quite comfortable for the current activity level. The MACD grows, keeping a moderate buy signal (the histogram is above the signal line). Stochastic grows, reaching its high, so EUR can become overbought in the super short term.
It is better to keep current long positions in the short and/or super short term.
Resistance levels: 1.1288, 1.1313, 1.1351, 1.1370.
Support levels: 1.1255, 1.1233, 1.1207, 1.1175.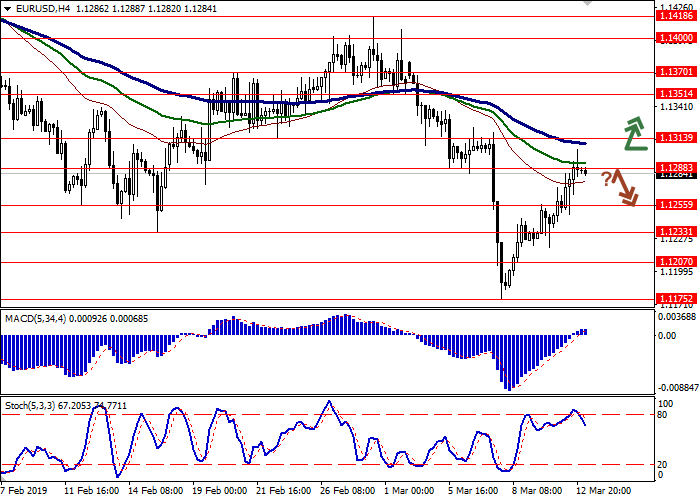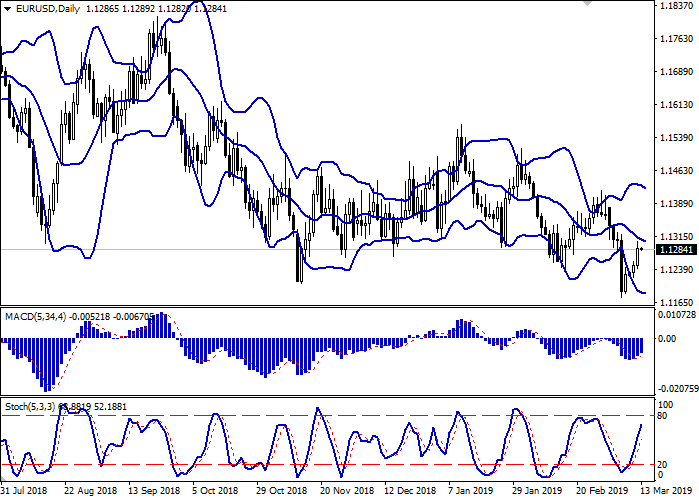 Trading tips
Long positions can be opened after the breakout of 1.1300–1.1313 with the targets at 1.1351–1.1370. Stop loss – 1.1288–1.1270.
Short positions can be opened near the current levels, followed by a breakdown of 1.1270–1.1255 with the target at 1.1207 or 1.1175. Stop loss – 1.1288 or 1.1300.
Implementation period: 2–3 days.