USD/CHF: dollar is in correction
11
January
2019, 09:10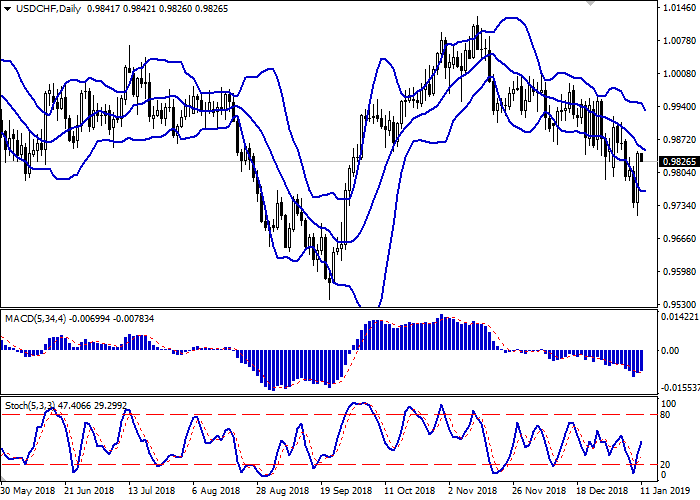 Scenario
Timeframe
Intraday
Recommendation
BUY STOP
Entry Point
0.9850
Take Profit
0.9900, 0.9920, 0.9936
Stop Loss
0.9820
Key Levels
0.9714, 0.9760, 0.9800, 0.9847, 0.9880, 0.9900, 0.9936
Alternative scenario
Recommendation
SELL STOP
Entry Point
0.9795
Take Profit
0.9760, 0.9730, 0.9714
Stop Loss
0.9830
Key Levels
0.9714, 0.9760, 0.9800, 0.9847, 0.9880, 0.9900, 0.9936
Current trend
Yesterday, USD rose against CHF, retreating from the renewed local lows since September 27, 2018, although there was no obvious reason in the market for such a significant increase. Moreover, in many other pairs, USD is still under pressure, and yesterday's speech of US Federal Reserve Head Jerome Powell did not support it.
EU investors are encouraged by the course of the US-Chinese negotiations, which could lead to the end of the trade conflict and stabilize world trade. On the other hand, the state of the German economy is a concern. A series of recent negative data on Industrial Production, Factory Orders, and Exports raises concerns that German GDP may also be pressured.
Support and resistance
On the daily chart, Bollinger bands are steadily declining. The price range is actively narrowing, reflecting the emergence of ambiguous trading dynamics. MACD indicator reversed upwards, forming a new buy signal (the histogram is above the signal line). Stochastic is actively growing in the middle of its working area.
Further development of correctional upward dynamics is possible in the short and/or ultra-short term.
Resistance levels: 0.9847, 0.9880, 0.9900, 0.9936.
Support levels: 0.9800, 0.9760, 0.9714.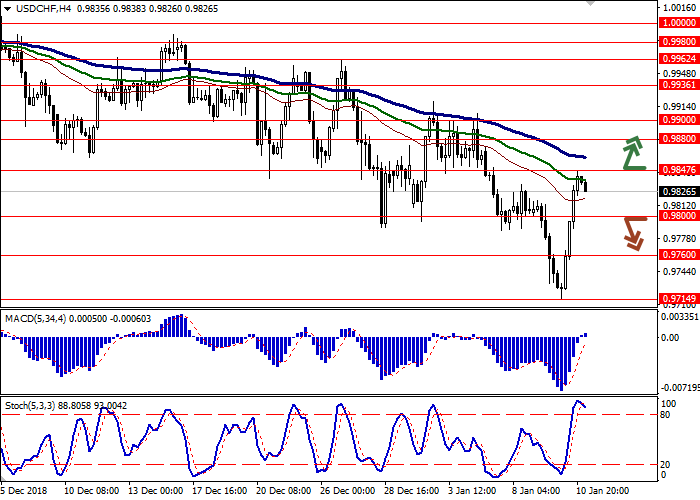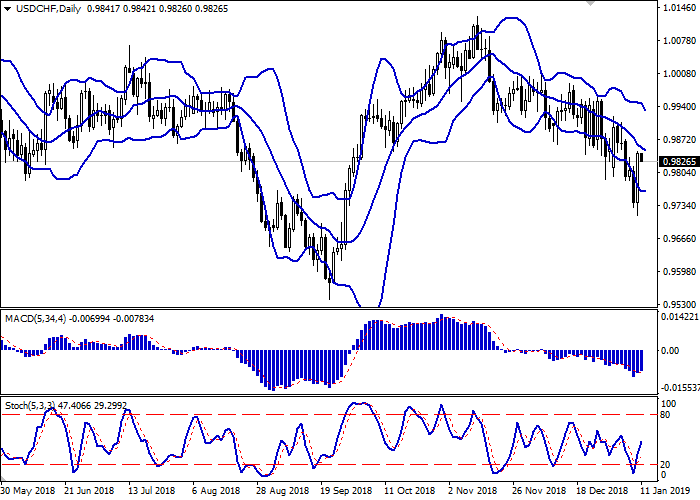 Trading tips
Long positions can be opened after the breakout of the level of 0.9847 with the targets at 0.9900 or 0.9920–0.9936. Stop loss is 0.9820.
Short positions can be opened after the breakdown of the level of 0.9800 with the targets at 0.9760 or 0.9730–0.9714. Stop loss is 0.9830.
Implementation period: 2–3 days.