PayPal Holdings Inc. (PYPL/NASD): general analysis
10
January
2019, 11:05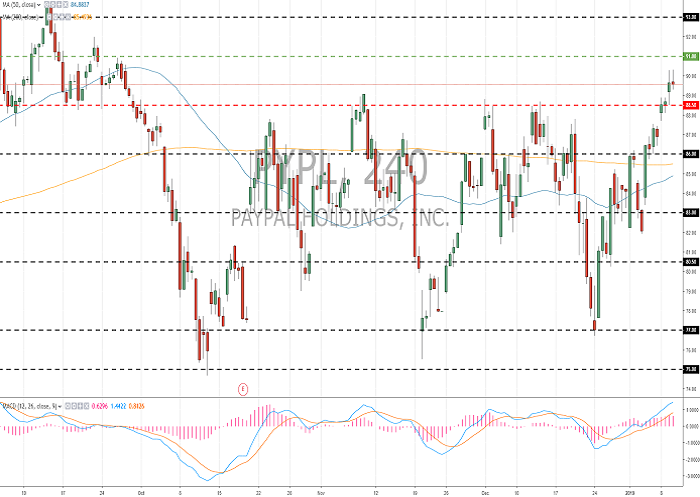 Scenario
Timeframe
Intraday
Recommendation
BUY STOP
Entry Point
91.00
Take Profit
93.00, 95.00, 96.00
Stop Loss
92.35, 89.00
Key Levels
83.00, 86.00, 88.50, 91.00, 93.00
Alternative scenario
Recommendation
SELL STOP
Entry Point
88.45
Take Profit
85.00, 83.00
Stop Loss
90.50
Key Levels
83.00, 86.00, 88.50, 91.00, 93.00
Current trend
Yesterday, PayPal shares fixed at a 3-month high, rising by 6.5% since the beginning of January. At the moment, the issuer quotes are trading at a discount of 3.8% to the September 52-week high. In late January, the company will publish quarterly results. India will be one of the key growth drivers: according to management, in the past quarter, revenues from this region increased by 1,200%.
During the last week, PayPal rose 4.43% against the growth rate of the S&P 500 index by 2.97%.
Support and resistance
The "bullish" moods prevail. At the moment, #PYPL quotes are consolidating. The key support and resistance levels are 88.50 and 91.00. There is potential for further growth. Indicators reflect the strength of buyers: the price is fixed above the MA (50) and MA (200); MACD is in the positive zone and continues to rise. It is better to open the positions from the key levels.
A comparative analysis of company multipliers and competing companies in the industry indicates that #PYPL is overvalued.
Resistance levels: 91.00, 93.00.
Support levels: 88.50, 86.00, 83.00.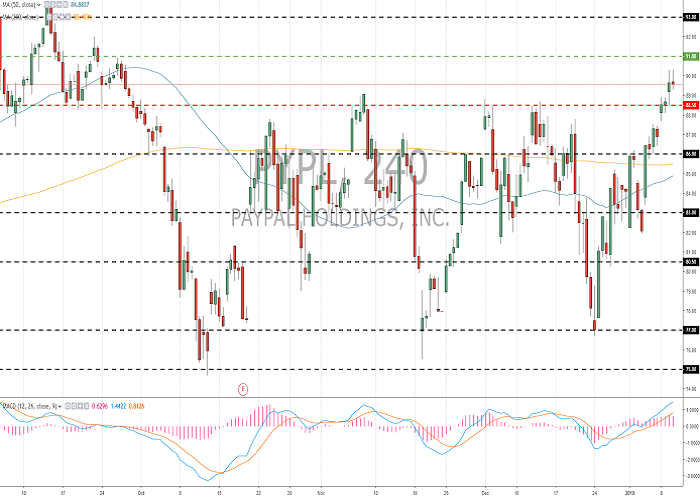 Trading tips
Long positions can be opened after the price is set above the level of 91.00. The closing of the profitable positions is possible at the levels of 93.00, 95.00 and 96.00. Stop loss is 89.00.
Short positions can be opened after the price consolidates below the level of 88.50 with the targets at 85.00–83.00. Stop loss is 90.50.
Implementation period: 3 days.