NZD/USD: New Zealand Dollar strengthens
10
January
2019, 09:21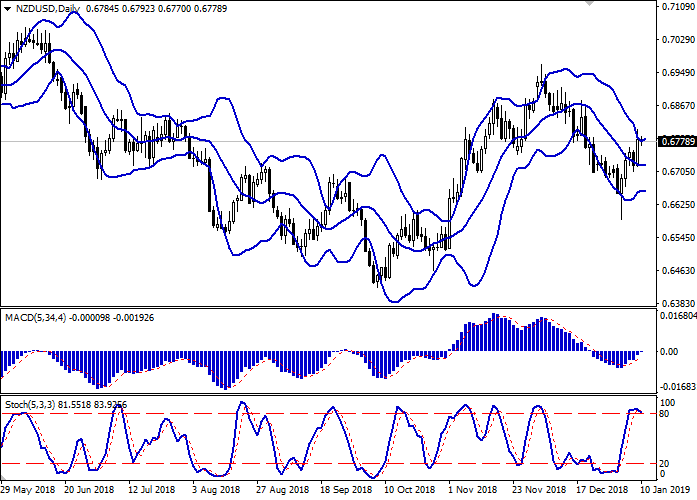 Scenario
Timeframe
Intraday
Recommendation
BUY STOP
Entry Point
0.6810
Take Profit
0.6885, 0.6910
Stop Loss
0.6770, 0.6760
Key Levels
0.6621, 0.6662, 0.6704, 0.6748, 0.6807, 0.6838, 0.6865, 0.6885
Alternative scenario
Recommendation
SELL STOP
Entry Point
0.6740
Take Profit
0.6662, 0.6621, 0.6600
Stop Loss
0.6780, 0.6790
Key Levels
0.6621, 0.6662, 0.6704, 0.6748, 0.6807, 0.6838, 0.6865, 0.6885
Current trend
Yesterday, NZD rose significantly against USD, renewing its maximum since December 19, 2018.
Investors are focused on the US-China trade negotiations in Beijing. According to The Wall Street Journal, the parties managed to make significant progress on the issue of China buying goods and services in the United States but have not yet agreed to complete the deal. Negotiations of contact groups should continue at the end of the month, and the chances of concluding a general trade agreement until March 1 remain.
The market is waiting for the resolution of the issue of financing the US government, which partially suspended work last year. On Tuesday, President Donald Trump made an appeal to the nation, in which he justified the need to build a wall on the Mexico border. However, the issue of resuming government funding was not resolved. Trump left the meeting immediately after the leaders of the Democratic Party Chuck Schumer and Nancy Pelosi refused to approve the plan.
Support and resistance
On the daily chart, Bollinger bands are moving horizontally. The price range widens, letting the "bulls" renew local highs. MACD is growing, keeping a strong buy signal (the histogram is above the signal line) and trying to consolidate above the zero line. Stochastic approached its highs and reverses downwards, reflecting that NZD may become overbought.
It is better to wait until the situation is clear.
Resistance levels: 0.6807, 0.6838, 0.6865, 0.6885.
Support levels: 0.6748, 0.6704, 0.6662, 0.6621.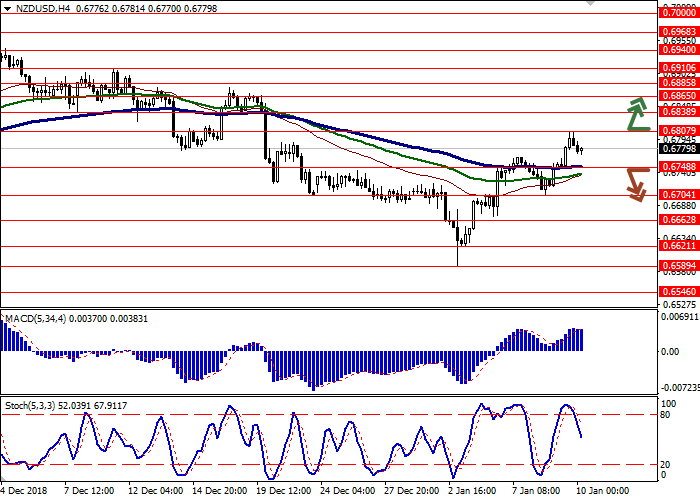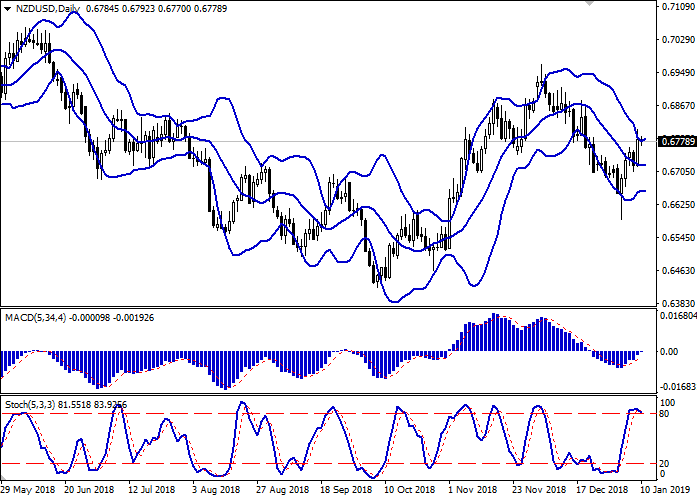 Trading tips
Long positions can be opened after the breakout of 0.6807 with the target at 0.6885 or 0.6910. Stop loss is 0.6770–0.6760.
Short positions can be opened after the breakdown of 0.6748 with the targets at 0.6662 or 0.6621–0.6600. Stop loss is 0.6780–0.6790.
Implementation period: 2–3 days.