Netflix Inc. (NFLX/NASD): general review
10
January
2019, 11:12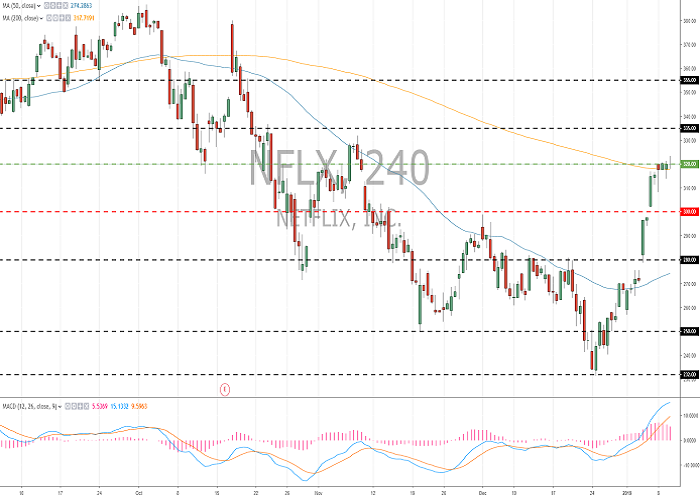 Scenario
Timeframe
Intraday
Recommendation
BUY STOP
Entry Point
320.00
Take Profit
335.00, 350.00, 360.00
Stop Loss
315.00, 305.00
Key Levels
250.00, 280.00, 300.00, 320.00, 335.00, 355.00
Alternative scenario
Recommendation
SELL STOP
Entry Point
299.90
Take Profit
275.00, 260.00
Stop Loss
315.00
Key Levels
250.00, 280.00, 300.00, 320.00, 335.00, 355.00
Current trend
Netflix stock has been updating its monthly high since the end of last week. The growth of the issuer's quotes from the 11-month low of December 24 was 37%. Netflix quotes strengthened against the background of a general post-holiday market reversal —the S&P 500 index rose by 10%. On January 17, Netflix will publish its Q4 2018 results. The company expects a 39% decline in earnings per share to USD 0.25.
During the last week the stock of Netflix grew by 19.54%. S&P 500 went up by 2.97% within the same period.
Support and resistance
Shares of the company continue to recover after a long-term decline. The issuer has the potential to further correction. Indicators don't give clear signals: the price crossed MA (200); the MACD histogram is located in the positive area but started declining. Positions are to be opened from key levels.
Comparing company's multiplier with its competitors in the industry, we can say that #NFLX shares are neutral.
Resistance levels: 320.00, 335.00, 355.00.
Support levels: 300.00, 280.00, 250.00.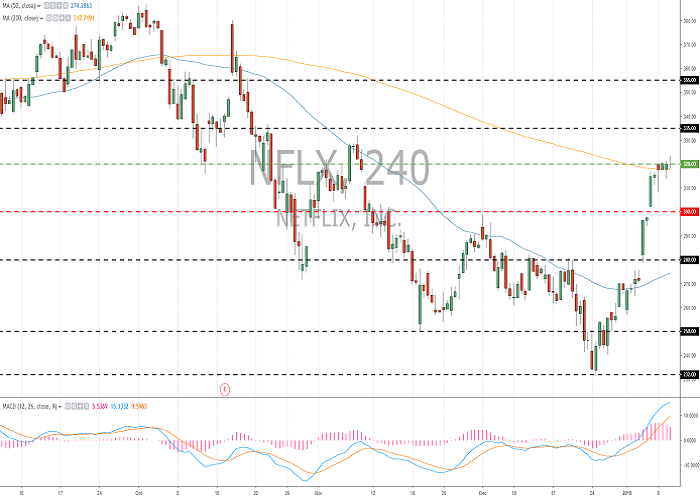 Trading tips
If the price consolidates above the resistance level of 320.00, further growth of #NFLX quotes is possible. Potential profits should be locked in by orders at 335.00, 350.00 and 360.00. Stop loss will be located at the level of 305.00.
If the price consolidates below 300.00, one may consider buying the company's stock. The movement is aimed to the area of 275.00–260.00. Stop loss — 315.00.
Implementation period: 3 days.