USD/JPY: general review
06
December
2018, 13:09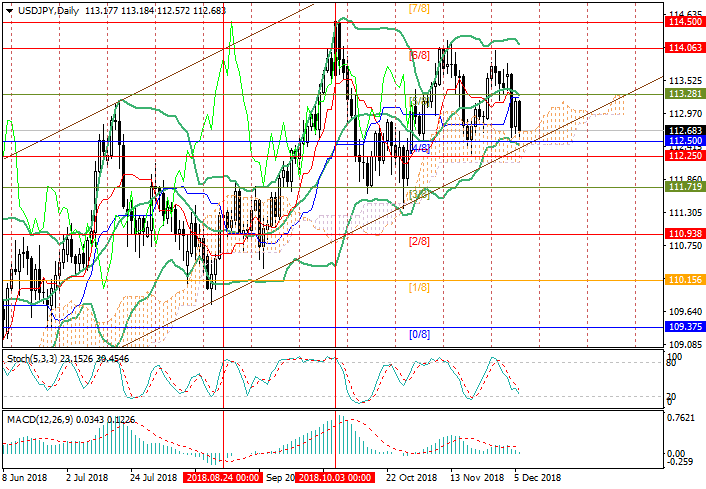 Scenario
Timeframe
Weekly
Recommendation
SELL STOP
Entry Point
112.25
Take Profit
111.72, 110.93
Stop Loss
112.60
Key Levels
110.93, 111.72, 112.50, 113.28, 114.06
Alternative scenario
Recommendation
BUY LIMIT
Entry Point
112.50
Take Profit
113.28, 114.06
Stop Loss
112.10
Key Levels
110.93, 111.72, 112.50, 113.28, 114.06
Current trend
On Thursday, the instrument dropped to the level of 112.60 amid negative data from the Fed's Beige Book, but then played back some of the positions after the comments of the Bank of Japan head Haruhiko Kuroda.
The Fed recorded a slowdown in the American economy. 11 out of 12 regions name tariff increases and the general trade policy of President Donald Trump as the reasons for the recession. After recent statements of the regulator's head Jerome Powell that the rate is "just below" the neutral level, the market received another reason to fear a slowdown in the tightening of monetary policy, which pushed USD down.
The BoJ head, speaking today in the Japanese parliament, once again rejected the possibility of a short-term rate increase. He noted that, regarding low inflation and uncertainty in world trade, a soft policy should be maintained, and a rate hike can now cause a recession and the inability to achieve a target inflation level of 2.0%.
Support and resistance
The instrument tends to 112.50 (Murrey [4/8]) near the lower border of the ascending channel. If the price consolidates below it, a decrease to 111.72 (Murrey [3/8]) and 110.93 (Murrey [2/8]) is possible.
This is confirmed by indicators: Bollinger Bands are reversing down, MACD histogram is preparing to enter the negative zone and form a sell signal, Stochastic is pointing downwards. Otherwise, growth may start to 113.28 (Murrey [5/8], the midline of Bollinger Bands) and 114.06 (Murrey [6/8]).
Support levels: 112.50, 111.72, 110.93.
Resistance levels: 113.28, 114.06.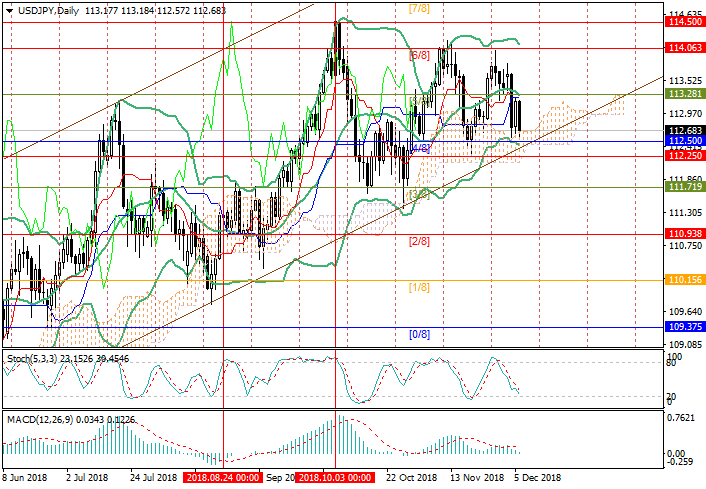 Trading tips
Short positions may be opened from 112.25 with targets at 111.72, 110.93 and stop loss at 112.60.
Long positions may be opened after the reversal near 112.50 with targets at 113.28, 114.06 and stop loss at 112.10.
Implementation period: 4-5 days.