SPX: general review
10
December
2018, 08:37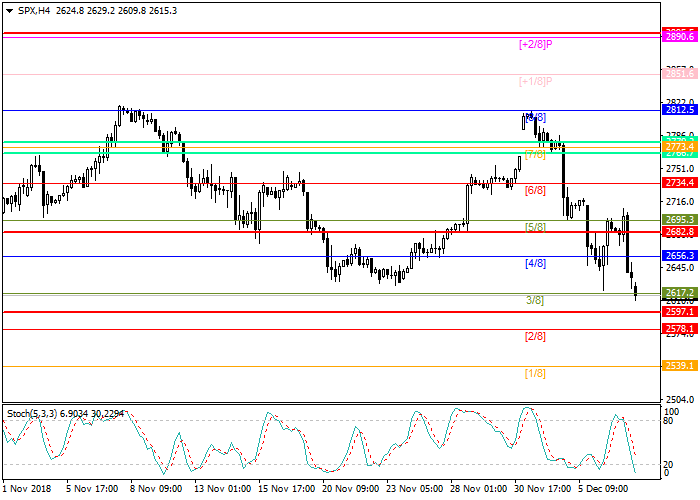 Scenario
Timeframe
Intraday
Recommendation
SELL STOP
Entry Point
2596.0
Take Profit
2539.3
Stop Loss
2617.2
Key Levels
2578.1, 2597.1, 2637.5, 2677.0
Current trend
S&P 500 continues to decline since the opening of the market. The price has broken the support level of 2617.2 (Murrey [3/8]) and the next possible target is at 2578.1.
Last week, data on the US labor market was published. The unemployment rate reached 3.7%, which is a record for the last 49 years. Nonfarm Payrolls in November reached 155K, with a forecast of 200K. The data are contradictory, so the Fed is not likely to rush to increase interest rates, continuing to focus on new indicators. On the other hand, economists fear a recession in the country, as the yield spread between 10-year and 2-year debt securities is approaching zero. According to statistics, the negative values of this indicator have been a harbinger of a recession since 1955.
Investors continue to monitor the development of the US-China trade relations. Recently, a representative of the Ministry of Commerce of China said that Beijing will be able to reach a full agreement on trade issues with Washington within 90 days, which is a positive signal for the stock market. However, on Thursday it became known that the financial director of Huawei Meng Wanzhou was arrested for violation of sanctions against Iran, and she is now facing extradition to the US. Against this background, experts fear that relations between Washington and Beijing may again become aggravated.
Support and resistance
Stochastic is at the level of 31 points and indicates the possible correction.
Resistance levels: 2637.5, 2677.0.
Support levels: 2597.1, 2578.1.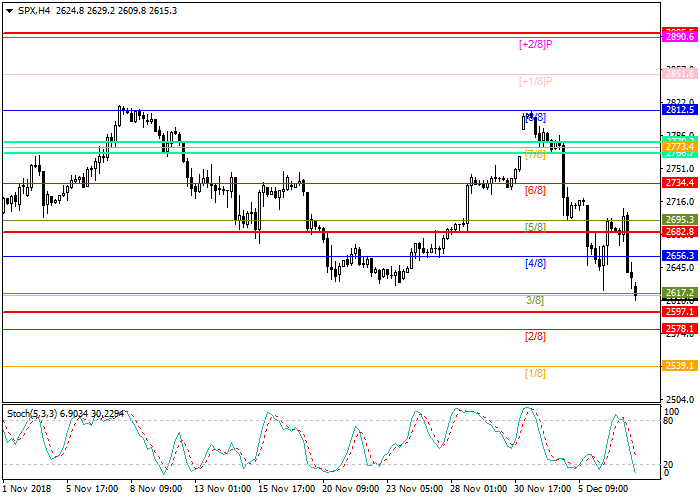 Trading tips
Open short positions after the breakdown of the support level of 2597.1 with take profit at 2539.3 and stop loss at 2617.2.