GBP/USD: general review
07
December
2018, 14:00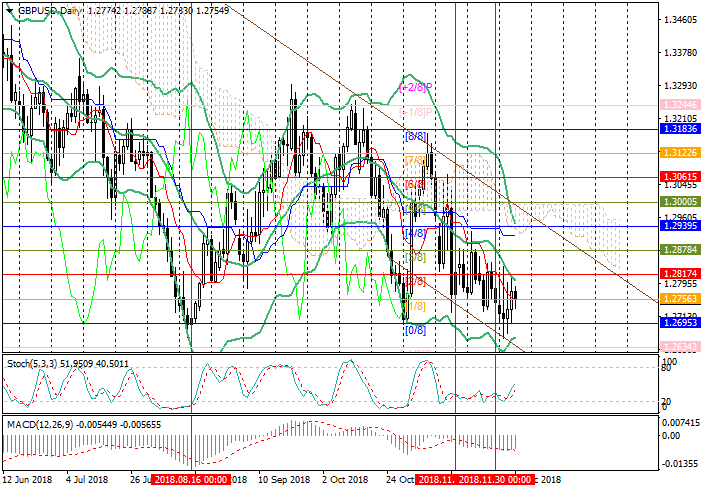 Scenario
Timeframe
Weekly
Recommendation
SELL STOP
Entry Point
1.2740
Take Profit
1.2695, 1.2634
Stop Loss
1.2780
Key Levels
1.2634, 1.2695, 1.2756, 1.2817, 1.2878, 1.2940
Alternative scenario
Recommendation
BUY STOP
Entry Point
1.2820
Take Profit
1.2878, 1.2940
Stop Loss
1.2780
Key Levels
1.2634, 1.2695, 1.2756, 1.2817, 1.2878, 1.2940
Current trend
The pair is trading at 1.2756 (Murrey [1/8]). Today, investors follow the debate on the Brexit in the British Parliament and the data from the US labor market.
Yesterday, the Fed Chairman Jerome Powell positively assessed its condition, noting that "the economy is currently performing very well overall, with strong job creation and gradually rising wages". However, the November statistics may disprove that. Unemployment is expected to remain at 3.7%, and Nonfarm Payrolls may decrease from 250K to 200K. Leading indicators also confirm weakness. ADP data on employment in the private sector showed a decline from 225K to 179K, and initial jobless claims in November were 223K, which is higher than in October.
Two days of debate remained before the vote on the Brexit deal December 11. Theresa May cannot yet get approval for the terms of a treaty with the EU. Parliamentarians are most worried that the United Kingdom will not be able to cancel specific customs regulations for Northern Ireland without EU consent.
Support and resistance
The instrument is testing 1.2756 (Murrey [1/8]) and may go down to 1.2695 (Murrey [0/8]) and 1.2634 (Murrey [-1/8]). The level of 1.2817 (Murrey [2/8], the midline of Bollinger Bands) is seen as key for the "bulls". Its breakout will give the prospect of growth to 1.2878 (Murrey [3/8]) and 1.2940 (Murrey [4/8], the upper line of Bollinger Bands). However, a significant reduction in the volatility of the pair before the vote in the parliament may happen.
Support levels: 1.2756, 1.2695, 1.2634.
Resistance levels: 1.2817, 1.2878, 1.2940.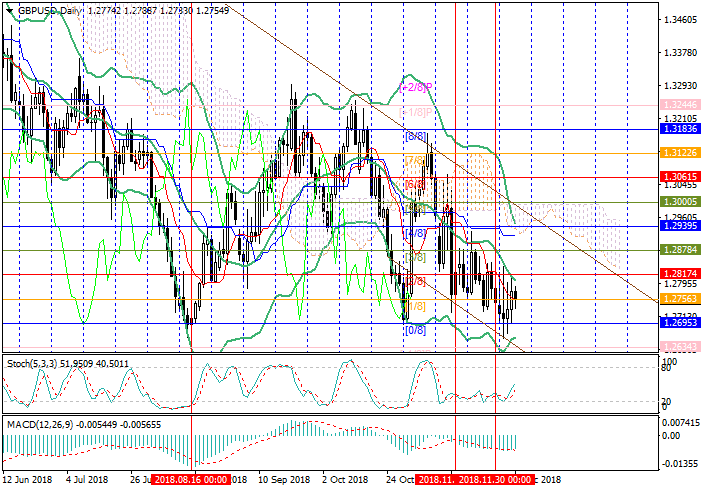 Trading tips
Short positions may be opened from 1.2740 with targets at 1.2695, 1.2634 and stop loss at 1.2780.
Long positions may be opened above 1.2817 with targets at 1.2878, 1.2940 and stop loss at 1.2780.
Implementation period: 4-5 days.