XAU/USD: technical analysis
08
November
2018, 09:35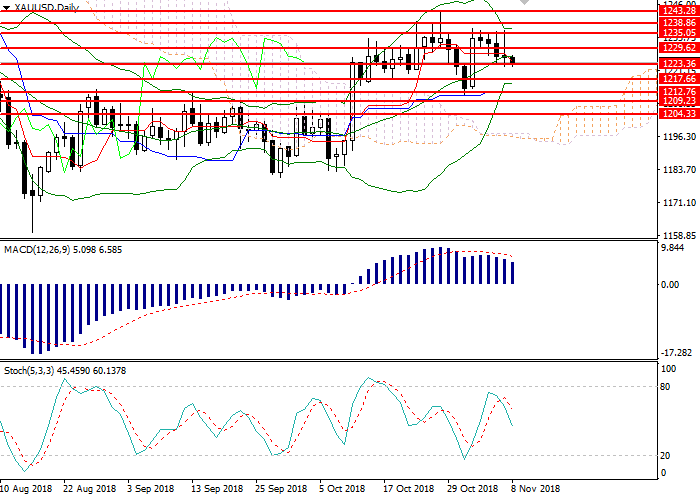 Scenario
Timeframe
Intraday
Recommendation
SELL STOP
Entry Point
1221.70
Take Profit
1217.25
Stop Loss
1224.30
Key Levels
1204.33, 1209.23, 1212.76, 1217.66, 1223.36, 1229.62, 1235.05, 1238.86, 1243.28, 1249.48, 1257.49
Alternative scenario
Recommendation
BUY STOP
Entry Point
1230.10
Take Profit
1239.50
Stop Loss
1227.00
Key Levels
1204.33, 1209.23, 1212.76, 1217.66, 1223.36, 1229.62, 1235.05, 1238.86, 1243.28, 1249.48, 1257.49
XAU/USD, D1
On D1 chart, the pair was corrected to the moving average of Bollinger Bands. The indicator is directed downwards and the price range has reduced, which indicates the change of the downtrend. MACD histogram is in the positive zone keeping the buy signal. Stochastic does not give clear signal for entering the market.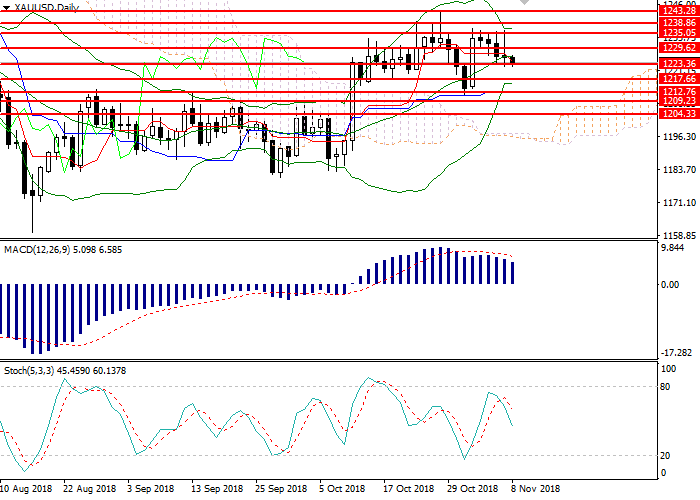 XAU/USD, H4
On the H4 chart, the instrument is testing the bottom line of Bollinger Bands, which is a key support level. The indicator is directed horizontally and the price range is limited, which indicates further downward correction. MACD histogram is consolidating at the zero level and the signal opening positions is not formed. Stochastic has entered the oversold area; a buy signal can be generated during the day.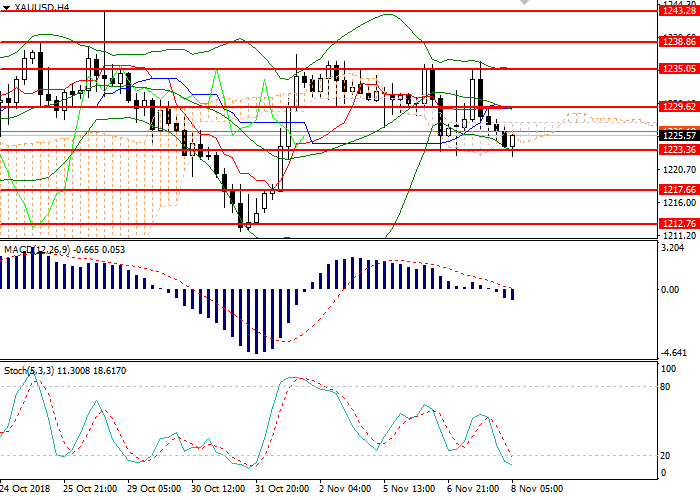 Support and resistance
Resistance levels: 1229.62, 1235.05, 1238.86, 1243.28, 1249.48, 1257.49.
Support levels: 1223.36, 1217.66, 1212.76, 1209.23, 1204.33.
Trading tips
Short positions may be opened below 1221.75 with target at 1217.25 and stop loss at 1224.30.
Long positions may be opened above the level of 1230.00 with target at 1239.50 and stop loss at 1227.00.
Implementation period: 1-2 days.