GBP/USD: general review
14
September
2018, 14:12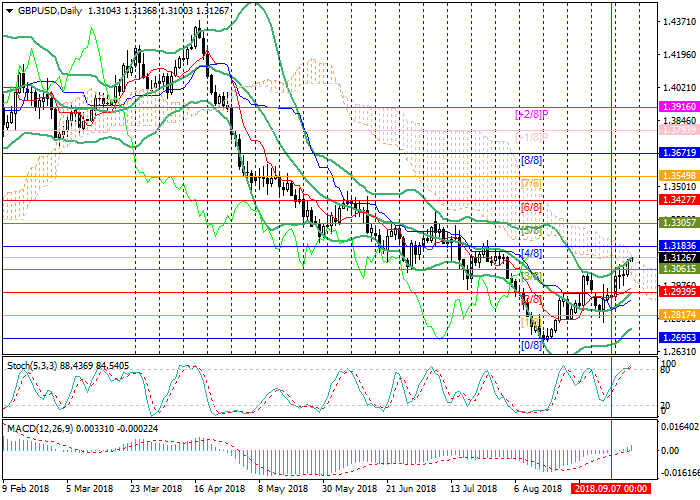 Scenario
Timeframe
Weekly
Recommendation
SELL STOP
Entry Point
1.3055
Take Profit
1.2940
Stop Loss
1.3100
Key Levels
1.2940, 1.3060, 1.3183, 1.3305, 1.3427
Alternative scenario
Recommendation
BUY STOP
Entry Point
1.3190
Take Profit
1.3305, 1.3427
Stop Loss
1.3140
Key Levels
1.2940, 1.3060, 1.3183, 1.3305, 1.3427
Current trend
This week, the pair grows and is currently at the level of 1.3120.
On Thursday, the dollar was pressured by weak data on US inflation. In August, YoY CPI fell from 2.9% to 2.7% (the lowest since April), and the base CPI - from 2.4% to 2.2% (the worst since May). Now, investors are in doubt on a twofold increase in the Fed rate this year.
The pound also remains in a difficult situation. The uncertainty around Brexit ties hands of the BoE, which left interest rates at around 0.75% at the last meeting. Mark Carney warned the cabinet no agreement cwith the EU could lead to a drop in housing prices by 25-35% and a significant decrease in transport links with the EU countries. The British economy may receive the damage like from the financial crisis of 2008. According to Moody's, a "divorce" without a deal will lead to an increase in inflation, a decrease in household incomes and consumer spending, and also cause significant damage to the industry.
Support and resistance
The pair grows along the upper line of Bollinger Bands but has a chance to correct to the level of 1.2940 (Murrey [2/8], the midline of Bollinger Bands), as Stochastics entered the overbought zone. A breakout of 1.3183 (Murrey [4/8]) may cause the growth to 1.3305 (Murrey [5/8]) and 1.3427 (Murrey [6/8]).
MACD histogram and Bollinger Bands generally confirm the uptrend: lines are directed upwards, and MACD histogram grows in the positive zone.
Support levels: 1.3060, 1.2940.
Resistance levels: 1.3183, 1.3305, 1.3427.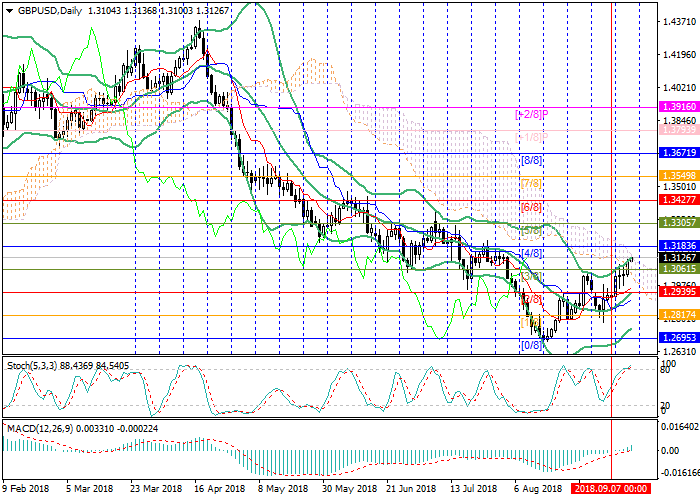 Trading tips
Sell positions may be opened below 1.3060 with the target at 1.2940 and stop loss at 1.3100.
Buy positions may be opened above 1.3183 with targets at 1.3305, 1.3427 and stop loss at 1.3140.
Implementation time: 4-5 days.