WTI Crude Oil: a general analysis
11
July
2018, 15:37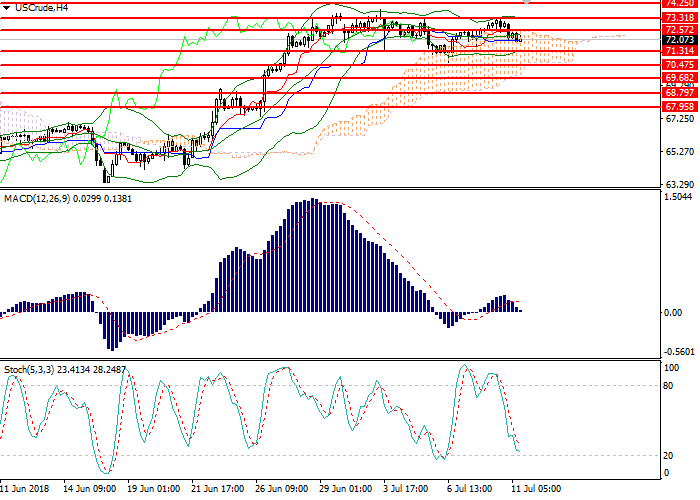 Scenario
Timeframe
Intraday
Recommendation
BUY
Entry Point
72.06
Take Profit
73.65, 74.00
Stop Loss
71.25
Key Levels
67.95, 68.80, 69.68, 70.47, 71.31, 72.57, 73.31, 74.25
Alternative scenario
Recommendation
SELL STOP
Entry Point
71.10
Take Profit
69.55
Stop Loss
71.35
Key Levels
67.95, 68.80, 69.68, 70.47, 71.31, 72.57, 73.31, 74.25
Current trend
This week, oil is trading within a narrow price range near local highs.
At the moment, "black gold" has a high growth potential due to numerous supply disruptions in Libya, Venezuela, and Canada. In addition, the strikes of the two unions of Norwegian oilmen support the instrument. Yesterday, API Weekly Crude Oil Stock reflected a decrease by 6.8 million barrels.
Today, market participants focus on the monthly OPEC report publication. In addition, at 16:30 (GMT+2) EIA Crude Oil Stocks change will be released. Taking into account risks with deliveries, statistics for Tuesday and forecast, the instrument will continue to strengthen in the short term.
Support and resistance
On the daily chart, the instrument is trading near the psychological level of 72.00. Bollinger bands are directed sideways, and the price range remains unchanged, reflecting maintenance of the corrective dynamics. MACD histogram is corrected in the neutral zone, giving no clear signal for entering the market. Stochastic is ready to enter the oversold area, a strong buy signal can be formed during the day.
Resistance levels: 72.57, 73.31, 74.25.
Support levels: 71.31, 70.47, 69.68, 68.80, 67.95.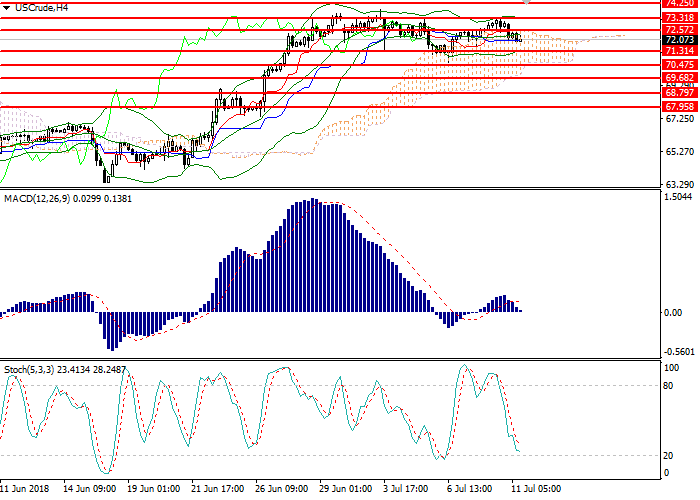 Trading tips
Long positions can be opened from the current level with the targets at 73.65, 74.00 and stop loss at 71.25.
Short positions can be opened at the level 71.10 with the target at 69.55 and stop loss at the level of 71.35.
Implementation period: 1–3 days.