XAG/USD: Murrey analysis
14
June
2018, 13:33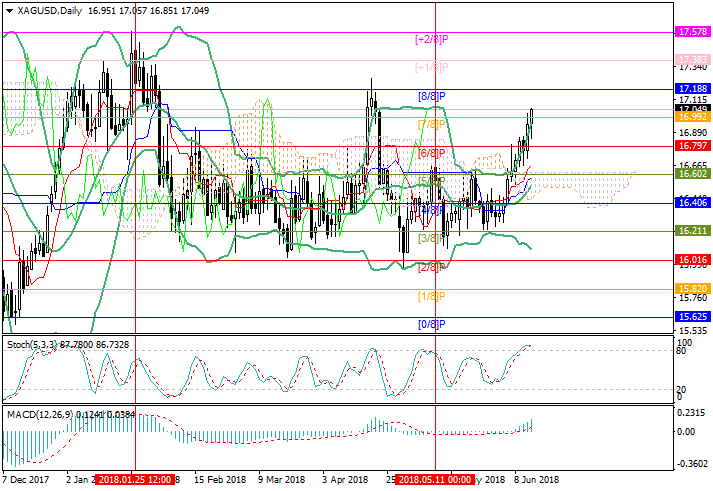 Scenario
Timeframe
Weekly
Recommendation
BUY
Entry Point
17.10
Take Profit
17.18, 17.38
Stop Loss
16.90
Key Levels
16.40, 16.60, 16.79, 17.18, 17.38, 17.57
Alternative scenario
Recommendation
SELL STOP
Entry Point
16.75
Take Profit
16.60, 16.40
Stop Loss
16.92
Key Levels
16.40, 16.60, 16.79, 17.18, 17.38, 17.57
On the daily chart, the price grew above the level of 16.99 ([7/8]) and is tending to the edge of the trading range to the area of ​​17.18 ([8/8]). In this case, the pair can reach the levels of 17.38 ([+1/8]) and 17.57 ([+2/8]). However, as Stochastic has entered the overbought zone, a correction within the uptrend is possible. Key "bearish" level is 16.97 ([6/8]). In case of the breakdown, the fall to the levels of 16.60 ([5/8], the middle Bollinger band line) and 16.40 ([4/8]) is possible. On the higher charts (W1, MN), the indicators confirm the further growth, which reflects the strength of the upward trend.
Support and resistance
Resistance levels: 17.18, 17.38, 17.57.
Support levels: 16.79, 16.60, 16.40.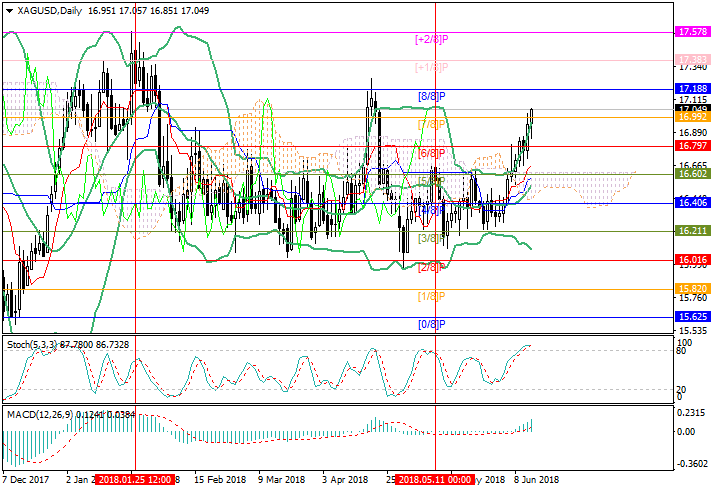 Trading tips
Long positions can be opened from the current level with the targets at 17.18, 17.38 and stop loss around 16.90.
Short positions can be opened after the price is set below the level of 16.79 with the targets at 16.60, 16.40 and stop loss around ​​16.92.
Implementation period: 3–5 days.