USD/CHF: technical analysis
13
June
2018, 15:18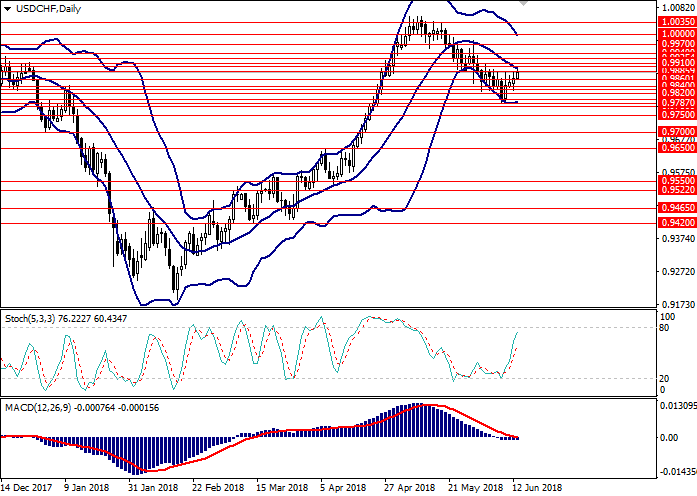 Scenario
Timeframe
Intraday
Recommendation
BUY STOP
Entry Point
0.9900
Take Profit
0.9970
Stop Loss
0.9860
Key Levels
0.9800, 0.9820, 0.9830, 0.9840, 0.9860, 0.9870, 0.9885, 0.9900, 0.9910, 0.9925, 0.9940, 0.9970
Alternative scenario
Recommendation
SELL STOP
Entry Point
0.9850
Take Profit
0.9800
Stop Loss
0.9880
Key Levels
0.9800, 0.9820, 0.9830, 0.9840, 0.9860, 0.9870, 0.9885, 0.9900, 0.9910, 0.9925, 0.9940, 0.9970
USD/CHF, D1
In D1 chart the instrument corrected to the middle line of Bollinger Bands, the price range is narrowed. MACD histogram is near zero line and has minimum volume, the signal line is ready to cross the zero line from above, after which the signal to open short positions will be received. Stochastic is in the neutral area, and the lines of the oscillator are directed upwards.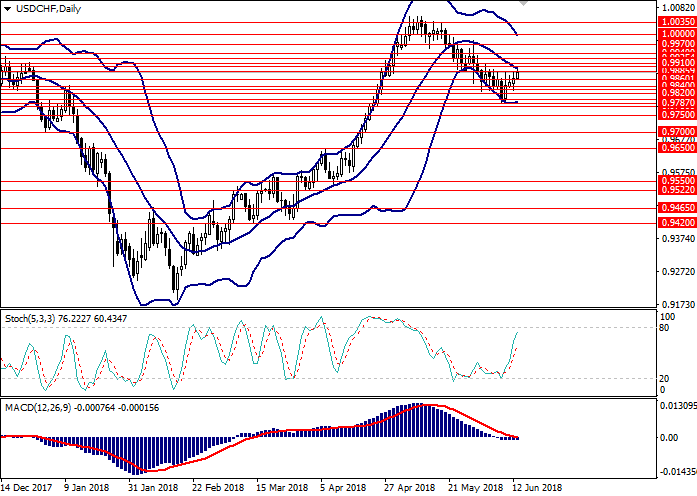 USD/CHF, H4
On the D1 chart the pair is moving in a lateral channel formed by the top and middle lines of Bollinger Bands. MACD histogram is in the positive area, gradually increasing volumes, the signal line crosses the zero mark and the body of the histogram from the bottom up, which is a signal to open long positions. Stochastic is at the oversold area border, and the signal line of the oscillator is directed upwards.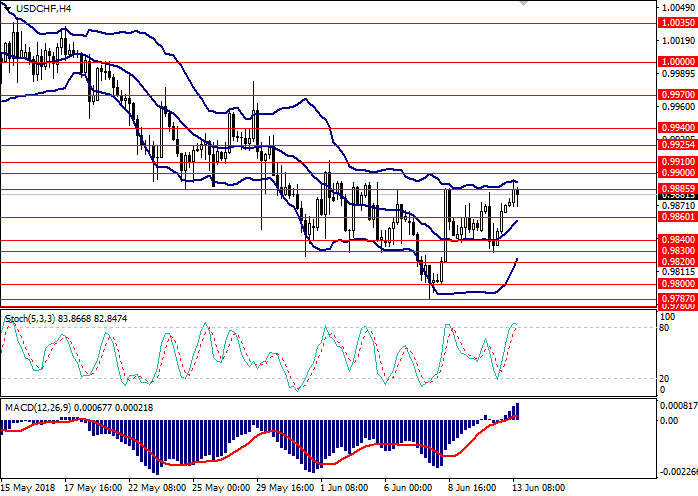 Key levels
Support levels: 0.9870, 0.9860, 0.9840, 0.9830, 0.9820, 0.9800.
Resistance levels: 0.9885, 0.9900, 0.9910, 0.9925, 0.9940, 0.9970.
Trading tips
According to technical indicators, long positions could be opened from the level of 0.9900 with target at 0.9970 and stop-loss at 0.9860.
Short positions may be opened from the level of 0.9850 with target at 0.9800. Stop-loss – 0.9880.
Implementation period: 1-3 days.