GBP/USD: general analysis
16
May
2018, 13:50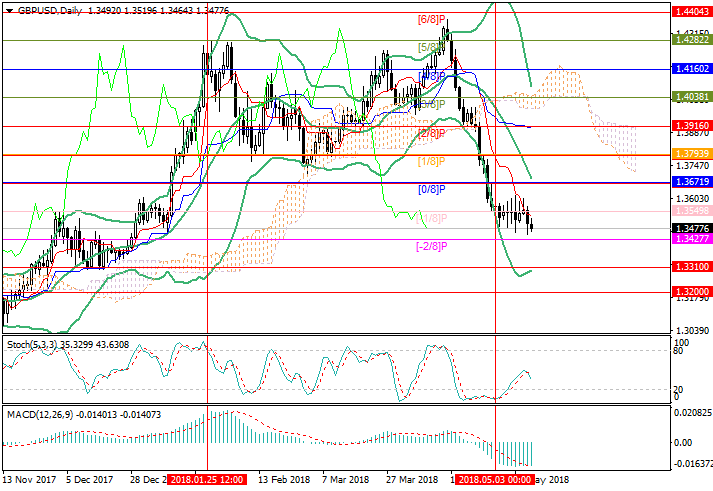 Scenario
Timeframe
Weekly
Recommendation
SELL STOP
Entry Point
1.3420
Take Profit
1.3310, 1.3200
Stop Loss
1.3470
Key Levels
1.3671, 1.3550, 1.3427, 1.3310, 1.3200
Alternative scenario
Recommendation
BUY STOP
Entry Point
1.3560
Take Profit
1.3671
Stop Loss
1.3510
Key Levels
1.3671, 1.3550, 1.3427, 1.3310, 1.3200
Current trend
Since the beginning of the month, the pair trades within the sideways channel 1.3610–1.3458 (Murray [6/8]–[1/8], Н4).
UK employment statistic was mixed. The unemployment level stays record low –4.2%. Average Earning Including Bonus has grown by 2.9% during the last 2 months, which has exceeded the inflation growth of the period (2.7%). On the other hand, the growth rate of Average Earnings Excluding Bonus decreased from 2.8% to 2.6%.
British economy is slowing after significant growth, which the Deputy Governor of the BoE Ben Broadbent confirmed in his interview for Daily Telegraph and due to the unclear situation about Brexit. Until the Summer EU Summit, UK must publish its plan of the relations with EU development during the transitional period. However, the British governing parties are not able to agree. On Tuesday, the Scottish Parliament rejected London Brexit low, as it restricts the rights of local parliamentarians.
Support and resistance
The price is tending to the lower border of the channel, but the fall is possible after consolidation below the level of 1.3427 (Murray [–2/8]), and the "bearish" targets will be at 1.3310 (the lower border of Bollinger Bands) and 1.3200. After the breakout of 1.3550 (Murray [–1/8]) the correction to the level of 1.3671 (Murray [0/8], the middle line of Bollinger Bands) is possible. The indicators reflect the fall. Bollinger Bands and Stochastic are pointed downwards. MACD histogram is stable in the negative zone.
Resistance levels: 1.3550, 1.3671.
Support levels: 1.3427, 1.3310, 1.3200.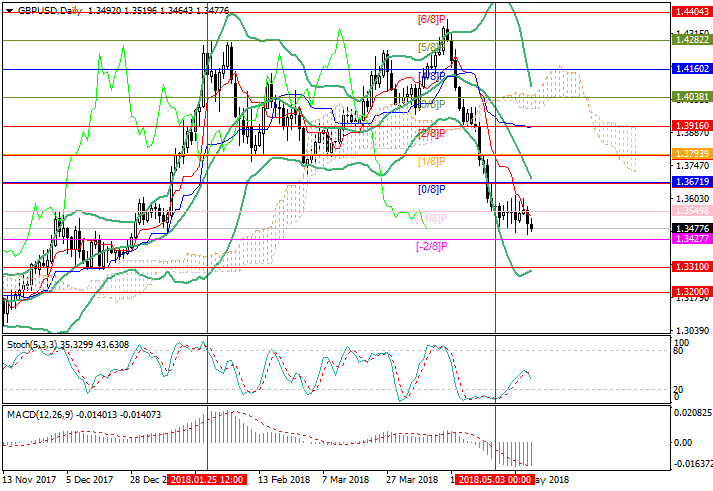 Trading tips
Short positions can be opened below the level of 1.3427 with the targets at 1.3310, 1.3200 and stop loss 1.3470.
Long positions can be opened above the level of 1.3550 with the target at 1.3671 and stop loss around 1.3510.
Implementation period: 5–7 days.