AUD/USD: US currency continues to strengthen
16
May
2018, 14:20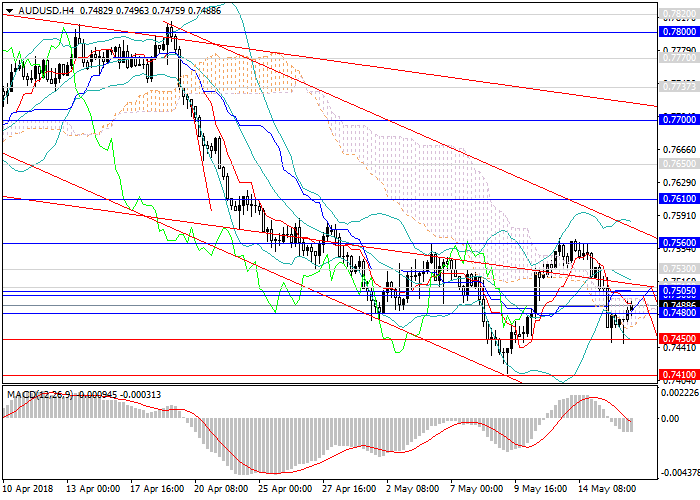 Scenario
Timeframe
Weekly
Recommendation
SELL
Entry Point
0.7485
Take Profit
0.7400, 0.7370, 0.7350
Stop Loss
0.7540
Key Levels
0.7230, 0.7300, 0.7350, 0.7370, 0.7400, 0.7410, 0.7450, 0.7480, 0.7505, 0.7530, 0.7560, 0.7610
Current trend
At the end of April, the Australian dollar against the US one fell to the lower border of the long-term flat, downward trend and moved to the stage of lateral consolidation.
Later, the lower border was passed, and the pair quickly headed down, testing 0.7410 mark on May 9. After that, the restructuring continued into a new, steeper channel: yesterday, "the Australian" again made an attempt to go lower, but today the pair won back some losses, failing to take a strong support level.
At the end of the week, special attention should be paid to the US data on the industrial output and labor market. Australia will respond with data on the unemployment rate and the annual publication of the budget.
Support and resistance
In the short term, a downward impulse is expected to resume. Strong resistance levels of 0.7500, 0.7505, and 0.7510 have grouped above the current value of the instrument. It is possible that from these values the pair will once again go to the local minimum at 0.7410, and then test new minima of 0.7400, 0.7370, 0.7350. The catalyst for the further decline of the pair will be the growth of USD's dominance in the medium term, given the possible tightening of monetary policy and raising rates from the Fed and yielding favorable statistics for the main sectors of the US economy.
Technical indicators confirm the fall outlook: on D1 chart, MACD indicates the preservation of the high volume of short positions, and Bollinger Bands are still directed downwards.
Support levels: 0.7450, 0.7410, 0.7400, 0.7370, 0.7350, 0.7300, 0.7230.
Resistance levels: 0.7480, 0.7505, 0.7530, 0.7560, 0.7610.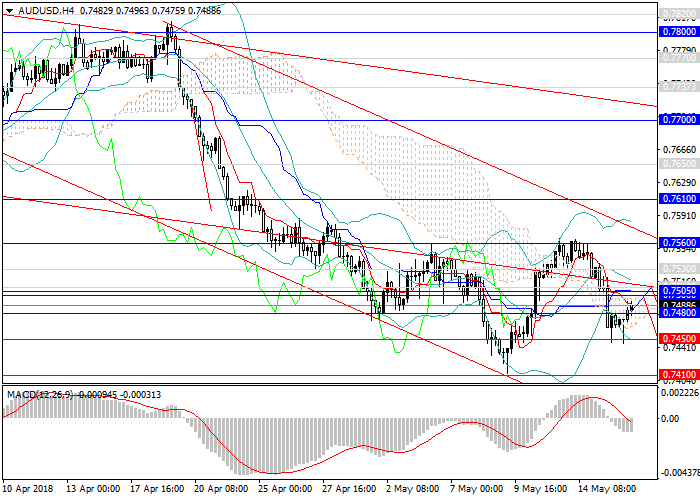 Trading tips
Short positions may be opened from the current level with targets at 0.7400, 0.7370, 0.7350 and stop-loss at 0.7540.