NZD/USD: change of direction from key resistance
16
April
2018, 14:29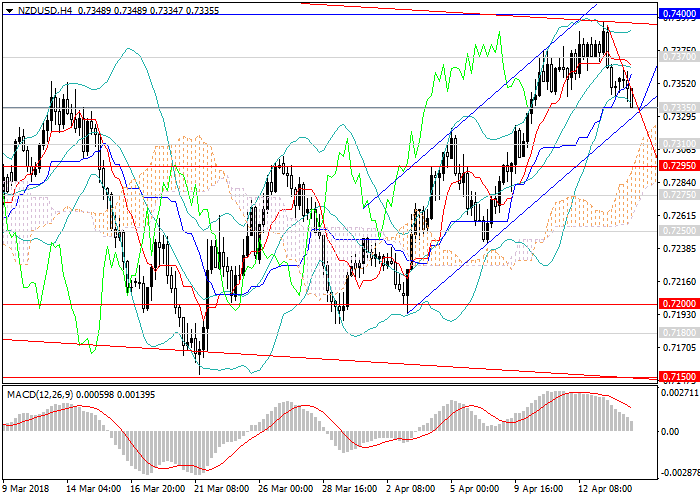 Scenario
Timeframe
Weekly
Recommendation
SELL
Entry Point
0.7339
Take Profit
0.7200, 0.7150
Stop Loss
0.7440
Key Levels
0.7070, 0.7150, 0.7200, 0.7250, 0.7275, 0.7295, 0.7310, 0.7335, 0.7370, 0.7400, 0.7420, 0.7450, 0.7530, 0.7550
Current trend
After the significant growth of the New Zealand dollar against the US one in early April, the pair reached a key resistance level of 0.7400 and, failing to overcome it, showed a downward correction.
At the moment, the instrument remains in the long, broad, lateral trend, which lasts for the past three months. In March, the main catalysts for the pair's growth were negative releases from the United States on inflation and the labor market, which is likely to postpone further tightening of the monetary policy by the Fed.
Today, March data on retail sales in the US will be published. The total retail sales after the decline in February could grow by 0.4%. Tomorrow, special attention should be paid to US industrial output and construction sector. New Zealand will respond with releases on inflation at the end of the current trading week.
Support and resistance
It is possible that the improvement of the main US macroeconomic indicators after the recession is contributing to the growth of demand for USD, and the pair will show a long correction down from the key resistance level (0.7400). Taking the marks of 0.7335, 0.7310 will open ways for the further decline of the pair. In this situation, the main scenario will be the movement of the pair within the current channel, the fall from the upper border of the range 0.7400 to the targets at 0.7200, 0.7150, and the possibility of taking the lower border with the retention of momentum.
Technical indicators on the H4 chart indicate the changing the trend: MACD shows a sharp drop in the volume of long positions, and Bollinger Bands are reversing down.
Support levels: 0.7335, 0.7310, 0.7295, 0.7275, 0.7250, 0.7200, 0.7150, 0.7070.
Resistance levels: 0.7370, 0.7400, 0.7420, 0.7450, 0.7530, 0.7550.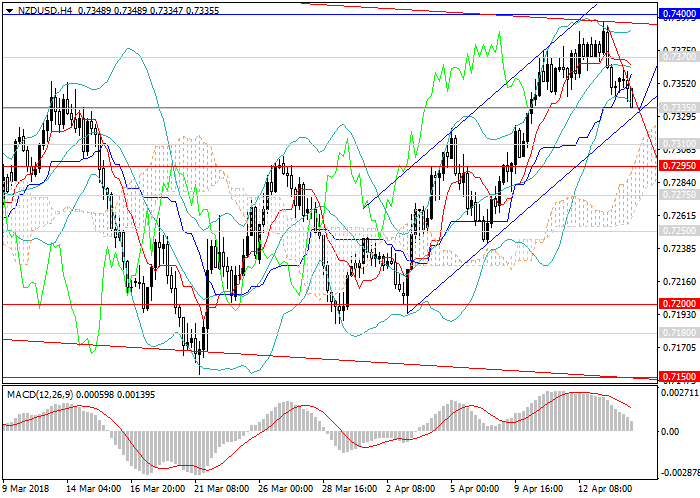 Trading tips
In this situation, short positions may be opened from the current level with targets at 0.7200, 0.7150 and stop-loss at 0.7440.