USD/JPY: the pair will grow
13
March
2018, 13:41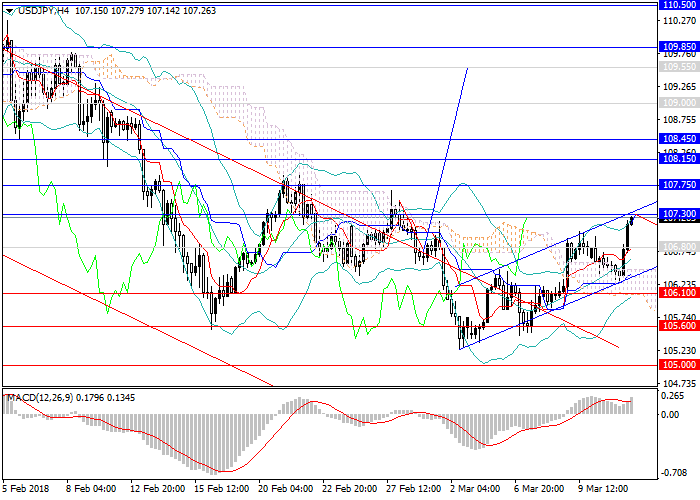 Scenario
Timeframe
Intraday
Recommendation
BUY
Entry Point
107.19
Take Profit
108.15
Stop Loss
106.40
Key Levels
104.50, 105.00, 105.60, 106.10, 106.80, 107.30, 107.75, 108.15, 108.45, 109.00
Alternative scenario
Recommendation
BUY LIMIT
Entry Point
106.80
Take Profit
108.15
Stop Loss
106.40
Key Levels
104.50, 105.00, 105.60, 106.10, 106.80, 107.30, 107.75, 108.15, 108.45, 109.00
Current trend
The USD/JPY pair is forming the upward channel. The main catalyst for the growth is the negative fundamental background in Japan.
At the beginning of the week, the pair weakened to the lower border of the downward channel and peaked up. Today the yen is decreasing due to Tertiary Industry Index release, which was in a red zone at the level of –0.6%. The growth if the investment attractiveness of the US currency and the maintenance of Bank of Japan monetary policy supported the instrument additionally.
Today the US Consumer Price Index will be published. At the end of the trading week the US Retail Sales, inflation, and employment market data are worth traders' attention.
Support and resistance
In the middle term, the upward trend will maintain, the pair will move within the current upward channel with the targets at 107.75, 108.15, 108.45. An insignificant correction is possible at the current level with the target at 106.80, where the upward wave will form.
Technical indicators confirm the growth, MACD long positions volume is growing, Bollinger Bands are directed upwards.
Resistance levels: 107.30, 107.75, 108.15, 108.45, 109.00.
Support levels: 106.80, 106.10, 105.60, 105.00, 104.50.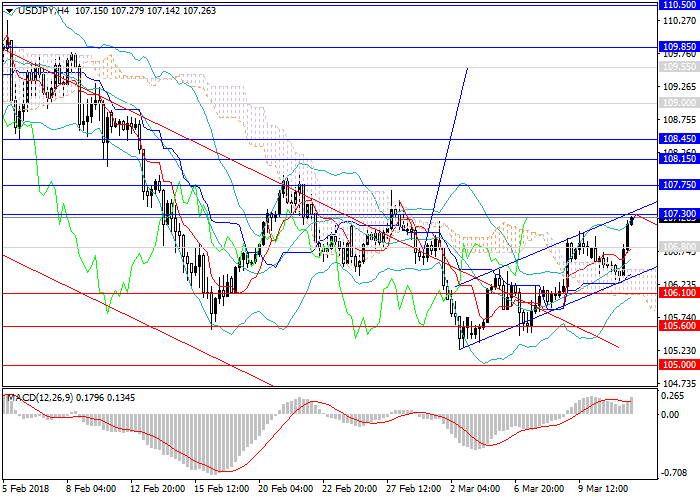 Trading tips
It is relevant to increase the volumes of long positions at the current level and open pending long positions at the level of 106.80 with the target at 108.15 and stop loss 106.40.