Brent Crude Oil: general review
13
March
2018, 14:34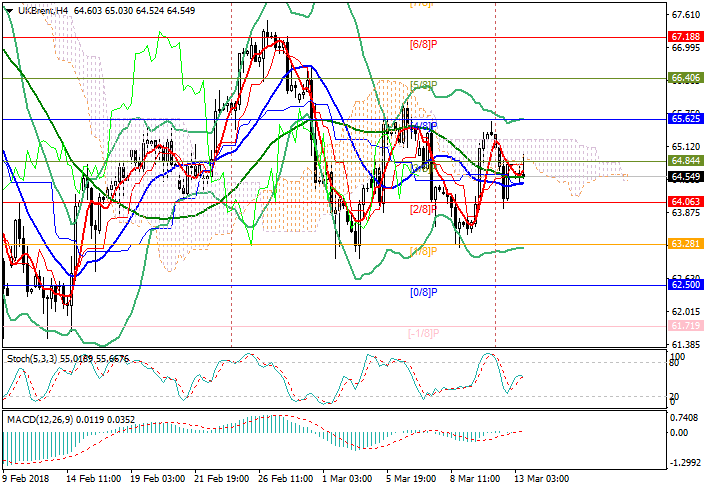 Scenario
Timeframe
Intraday
Recommendation
BUY STOP
Entry Point
64.90
Take Profit
65.62, 66.40
Stop Loss
64.30
Key Levels
62.50, 63.28, 64.06, 64.84, 65.62, 66.40
Alternative scenario
Recommendation
SELL STOP
Entry Point
64.00
Take Profit
63.28, 62.50
Stop Loss
64.50
Key Levels
62.50, 63.28, 64.06, 64.84, 65.62, 66.40
Current trend
Today Brent Crude Oil is trying to recover after falling to 64.00 mark on Monday.
The instrument was pressured by the EIA report, according to which the volume of shale oil production in the US will continue to grow: in March, it could increase to 6.82 million barrels per day, and in April –to 6.95 million barrels. New wells drilling is growing, too (by 110 units in February), which may create further expansion of production.
Long-term pressure on the market can be exerted by the actual failure of negotiations between OPEC representatives and US shale companies during the CERAWeek. According to Bijan Zangeneh from Iran the situation is so serious that the cartel may start withdrawal from the OPEC+ agreement at the June meeting. This emergency measure should help limit the shale boom in the US and allow traditional exporters to maintain their market share.
Support and resistance
The instrument is in the midline of Bollinger Bands around 64.50. Investors are waiting for the publication of API report on US oil reserves. In case of an increase, quotes can go down to 63.28 (Murrey [1/8], the bottom line of Bollinger Bands) and 62.50 (Murrey [0/8]) marks. Otherwise, the targets for growth will be the 65.62 (Murrey [4/8], the upper line of Bollinger Bands) and 66.40 (Murrey [5/8]) marks.
Indicators illustrate the uncertainty of the market. Bollinger Bands are located horizontally. MACD histogram is at the zero line, its volumes are insignificant. Stochastic is reversing downwards.
Support levels: 64.06, 63.28, 62.50.
Resistance levels: 64.84, 65.62, 66.40.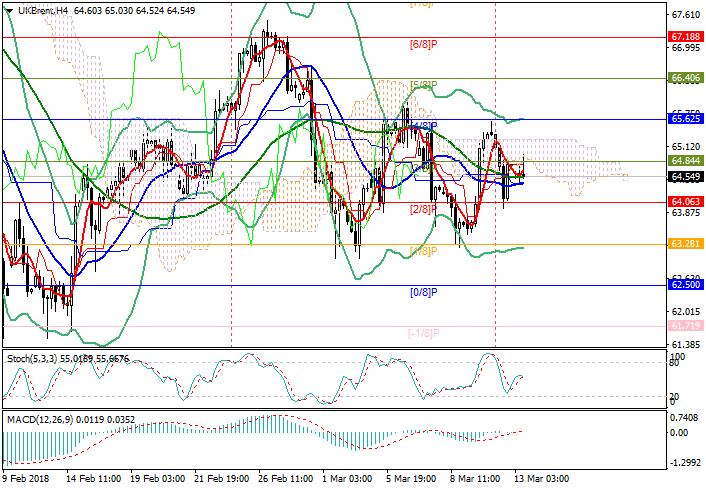 Trading tips
Long positions may be opened above the level of 64.84 with targets at 65.62, 66.40 and stop-loss at 64.30.
Short positions will become relevant below 64.06 with targets at 63.28 and 62.50 and stop-loss at 64.50.