Tesla, Inc. (TSLA/NASD)
07
December
2017, 12:56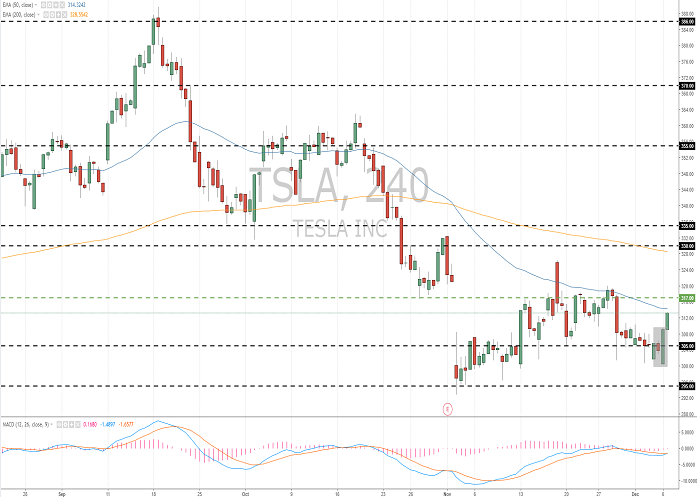 Scenario
Timeframe
Intraday
Recommendation
BUY STOP
Entry Point
317.10
Take Profit
325.00, 330.00, 335.00
Stop Loss
310.00
Key Levels
295.00, 305.00, 317.00, 330.00, 355.00
Current trend
After winning the suit, Tesla will continue to sell its electromobiles directly in Missouri. Earlier Automobile Association sued Tesla for violating legislation, selling the production not via the dealership network.
In the beginning of December, Tesla reported that it was ready to build the world largest 100 MWt lithium ion battery to provide South Australia with electric energy. Early the company has won the government tender and promised to end the project in 100 days.
During the last week Tesla stocks grew by 1.86% against the fall of S&P 500 index by 0.33%.
Support and resistance
Yesterday the issuer kept the support level of 305.00, which caused the aggressive buying. #TSLA grew by more than 3%. Now the price is testing the key resistance level of 317.00. The stocks have a potential of further restoration, which is confirmed by the Price Action patter Outer bar. Its' better to open long positions in the nearest time.
The comparative analysis between the indicators of the company and its competitors suggest the neutrality of its share prices.
Resistance levels: 317.00, 330.00, 355.00.
Support levels: 305.00, 295.00.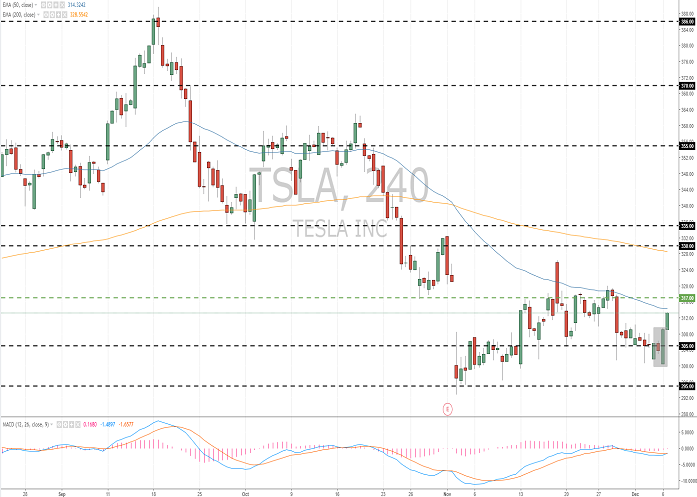 Trading tips
If the price is set above the resistance level of 317.00, it is better to find entry points to open long positions. Closing profitable positions is possible at the levels of 325.00, 330.00 and 335.00 partially. Stop loss is 310.00.
Implementation period: 3 days.