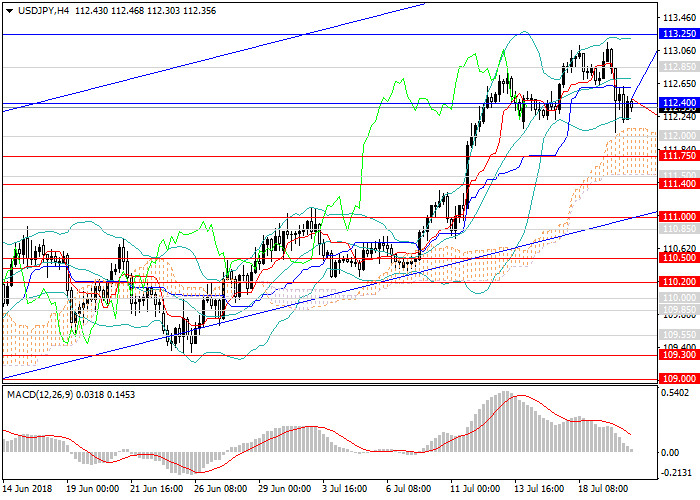 USD/JPY: the pair is growing
20
July
2018, 14:10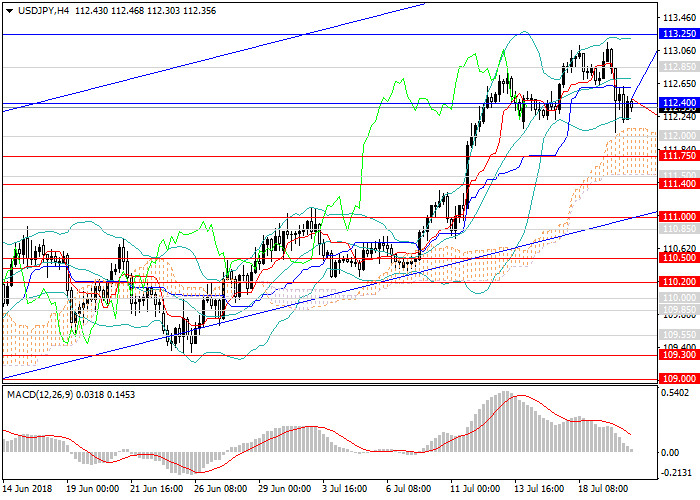 Scenario
Timeframe
Intraday
Recommendation
BUY
Entry Point
112.41
Take Profit
114.50, 115.00
Stop Loss
110.90
Key Levels
109.55, 110.00, 110.20, 110.50, 110.85, 111.00, 111.40, 111.75, 112.00, 112.40, 112.85, 113.70, 114.00, 114.50, 115.00, 115.70
Alternative scenario
Recommendation
BUY LIMIT
Entry Point
111.75, 111.40
Take Profit
114.50, 115.00
Stop Loss
110.90
Key Levels
109.55, 110.00, 110.20, 110.50, 110.85, 111.00, 111.40, 111.75, 112.00, 112.40, 112.85, 113.70, 114.00, 114.50, 115.00, 115.70
Current trend
The growth of USD against JPY reversed into a slight correction due to the closing of profitable long positions at key resistance levels. Yesterday, the pair lost more than 100 points and reached 112.00, but today it is regaining losses and moving towards local highs.
Increased interest in USD is due to strong US labor market and index statistics. It is expected that preliminary data on Q2 US GDP will grow to 4%, which will cause a sharp surge of investment interest in the dollar and the pair's growth to new highs. In addition, the dollar is strengthening because of the prospects for further tightening of monetary policy in the near future, and the yen is weakening as a result of maintaining a soft monetary policy.
In the next trading week, traders will focus on data on the growth rates of the economy, the labor market and Durable Goods Orders in the USA.
Support and resistance
Technical indicators confirm the growth forecast to the levels of 114.50, 115.00 in the medium term, MACD long positions volumes are growing, Bollinger bands are directed upwards.
Resistance levels: 112.40, 112.85, 113.70, 114.00, 114.50, 115.00, 115.70.
Support levels: 112.00, 111.75, 111.40, 111.00, 110.85, 110.50, 110.20, 110.00, 109.55.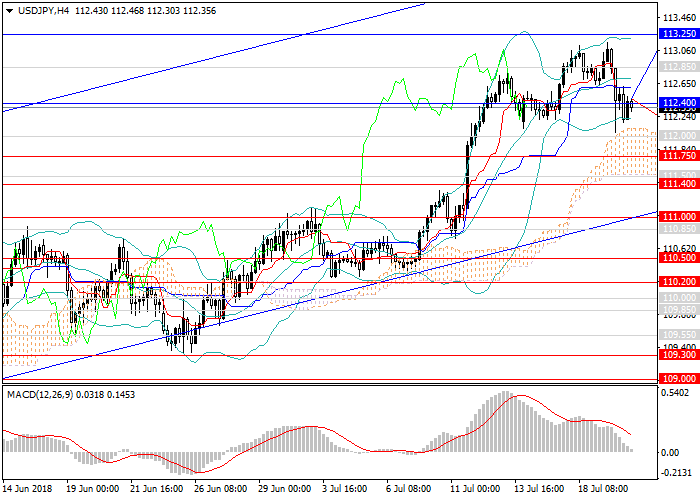 Trading tips
It is relevant to increase the volumes of long positions from the current level and open pending long positions from 111.75, 111.40 with the targets at 114.50, 115.00 and stop loss 110.90.