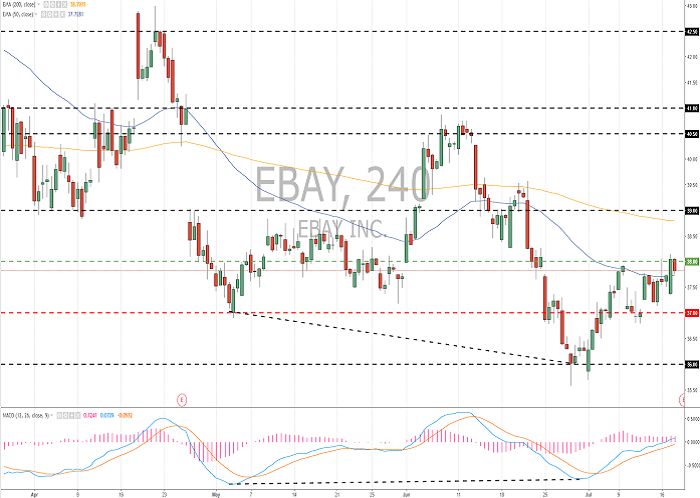 eBay Inc. (EBAY/NASD): general analysis
18
July
2018, 14:26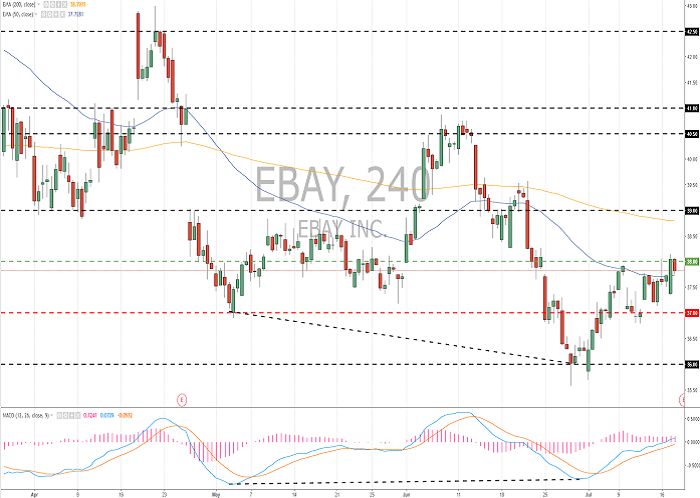 Scenario
Timeframe
Intraday
Recommendation
BUY STOP
Entry Point
38.10
Take Profit
39.00, 40.00, 40.50
Stop Loss
37.00
Key Levels
36.00, 37.00, 38.00, 39.00, 40.50
Alternative scenario
Recommendation
SELL STOP
Entry Point
36.90
Take Profit
35.00, 34.50
Stop Loss
38.00
Key Levels
36.00, 37.00, 38.00, 39.00, 40.50
Current trend
Today after the market closes, eBay will publish Q2 2018 report. The Wall Street expects a 13% YoY rise in earnings per share to $0.51. According to the results of the first quarter of this year, this indicator met the market expectations, while in the previous quarters, starting from Q3 2013, it exceeded them. The company's revenue growth is expected to reach $2.66 billion against $2.33 billion last year.
During the last week, eBay grew by 2.08% against the growth of the S&P 500 index by 0.91%.
Support and resistance
The price is now consolidating. The key trading range is 37.00–38.00. The current technical picture reflects a possible correction of the issuer. A classic reversal formation emerged – the price and MACD divergence. Indicators do not give a clear signal: the price crossed MA (50); MACD histogram is in the positive zone. It is better to open the positions from the key levels.
The comparative analysis of the indicators of the company and its competitors suggests the neutrality of its share prices.
Resistance levels: 38.00, 39.00, 40.50.
Support levels: 37.00, 36.00.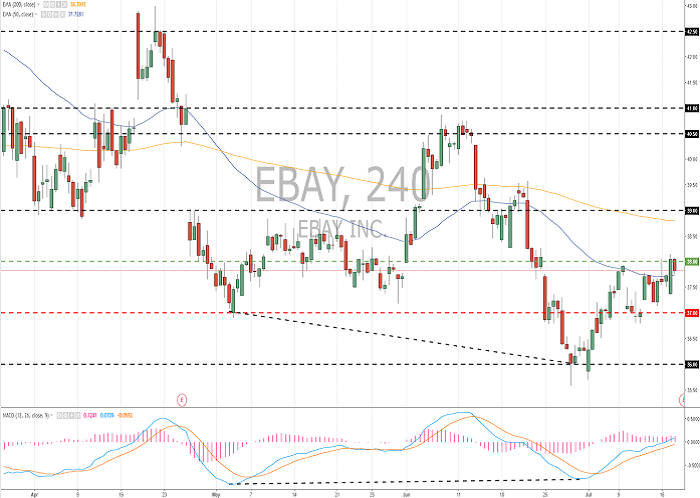 Trading tips
Long positions can be opened after the price is set above the level of 38.00. The closing of profitable positions is possible at the levels of 39.00, 40.00 and 40.50. Stop loss is 37.00.
Short positions can be opened after the price is set below the level of 37.00 with the targets at 35.00–34.50. Stop loss is 38.00.
Implementation period: 3 days.