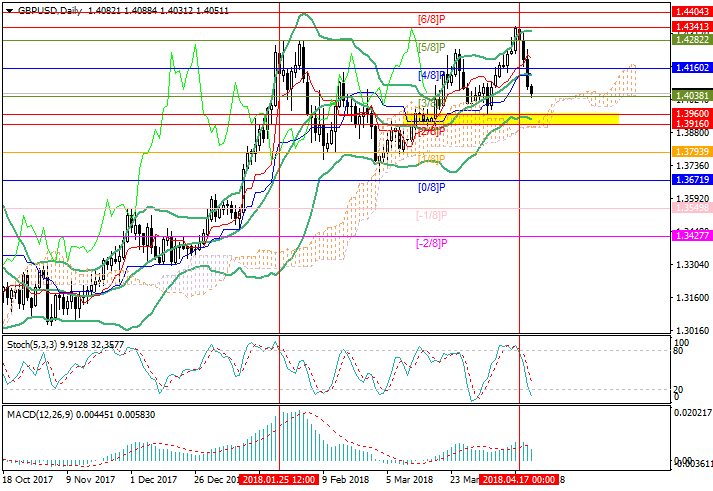 GBP/USD: Mark Carney disappointed investors
20
April
2018, 15:36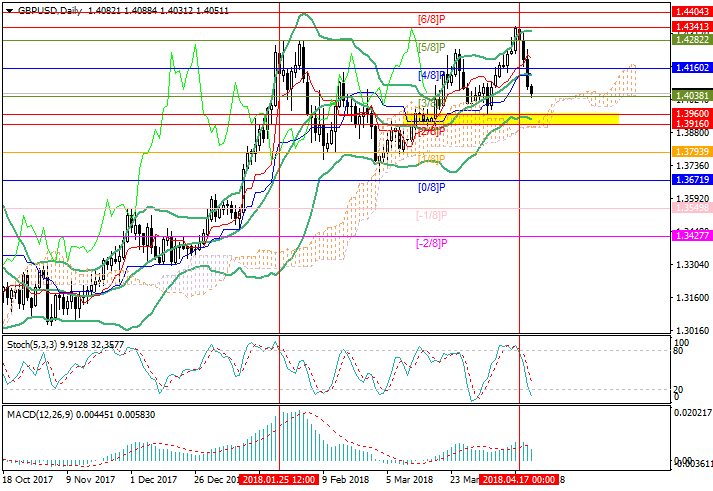 Scenario
Timeframe
Weekly
Recommendation
SELL STOP
Entry Point
1.4035
Take Profit
1.3960, 1.3916
Stop Loss
1.4080
Key Levels
1.3916, 1.3960, 1.4038, 1.4100, 1.4160, 1.4221
Alternative scenario
Recommendation
BUY STOP
Entry Point
1.4110
Take Profit
1.4160, 1.4221
Stop Loss
1.4070
Key Levels
1.3916, 1.3960, 1.4038, 1.4100, 1.4160, 1.4221
Current trend
On Thursday, after a weak attempt for growth, the pair has been sharply adjusted and is currently trading at around 1.4038.
Investors were disappointed by the comments of the Bank of England's head Mark Carney, who noted that the increase in the interest rate depends on the final deal on Brexit. Carney also noted the weakness of recent data on retail sales and too rapid reduction of inflation. All this has caused investors to doubt that BoE will decide to raise the rate in May, although the probability persists.
Additional pressure on the pound was provided by EU representatives who rejected all proposals of the British party on the Irish border. The question on the border between Northern Ireland, part of the United Kingdom, and the Republic of Ireland, an EU member, is now considered the most important in the negotiations. Both parties agree that the physical border should not exist here after Brexit, but they can not decide how to monitor the trade and movement of citizens.
Support and resistance
Currently, the instrument is testing the 1.4038 mark (Murray [3/8]) and, in its breakdown, may continue to decline to the levels of 1.3960-1.3916 (the bottom line of Bollinger Bands, Murray [2/8]). This is confirmed by indicators: Stochastic is directed downwards, and MACD histogram is reducing in the positive zone. After the breakout of 1.4100 mark (Murray [4/8], H4), the growth can continue to 1.4160 (Murray [4/8]) and 1.4221 (Murray [5/8], H4) marks.
Support levels: 1.4038, 1.3960, 1.3916.
Resistance levels: 1.4100, 1.4160, 1.4221.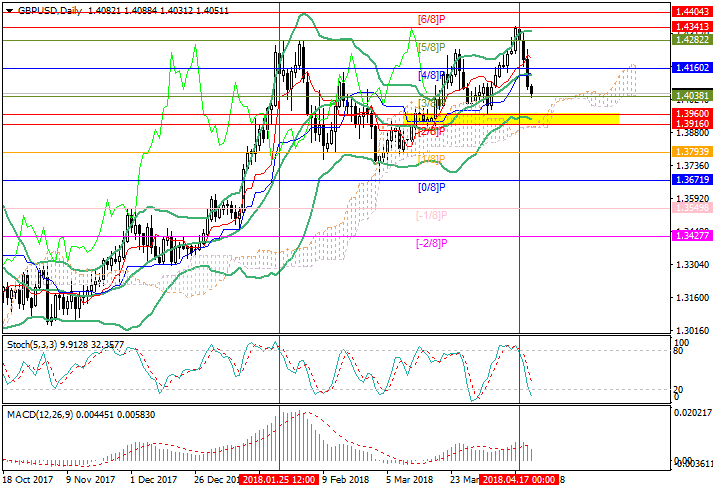 Trading tips
Short positions may be opened below the level of 1.4038 with targets at 1.3960, 1.3916 and stop-loss at 1.4080.
Long positions may be opened above the level of 1.4100 with targets at 1.4160, 1.4221 and stop-loss at 1.4070.