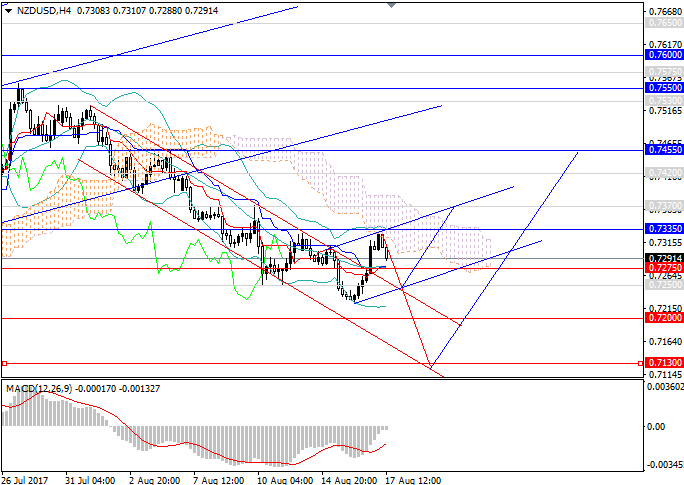 NZD/USD: no reasons to fall
17
August
2017, 14:29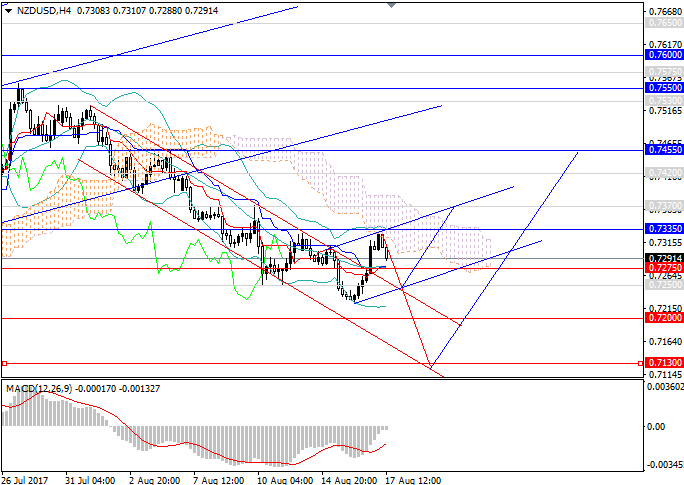 Scenario
Timeframe
Weekly
Recommendation
BUY
Entry Point
0.7301
Take Profit
0.7455, 0.7550
Stop Loss
0.7080
Key Levels
0.6810, 0.6970, 0.7050, 0.7130, 0.7200, 0.7275, 0.7335, 0.7370, 0.7420, 0.7455, 0.7550, 0.7600
Alternative scenario
Recommendation
BUY LIMIT
Entry Point
0.7250, 0.7200, 0.7130
Take Profit
0.7455, 0.7550
Stop Loss
0.7080
Key Levels
0.6810, 0.6970, 0.7050, 0.7130, 0.7200, 0.7275, 0.7335, 0.7370, 0.7420, 0.7455, 0.7550, 0.7600
Current trend
In the end of July the NZD after significant growth against USD began to weaken. There were two man catalysts of the trend change. One is the growth of the investors' interest in the oversold USD after positive key economy sector releases in the USA. The second is the fall of the demand on the New Zealand currency due to the RBNZ representatives' commentaries upon the necessity of cheaper NZD to decrease the budget debt and minimize risks for the New Zealand economy. The pair began to fall, and investors began to get rid of the New Zealand currency, which made an additional pressure on the pair. Further RBNZ lowered the inflation expectations, so the NZD continued to go down. The August rapid fall of the pair is due to the inner economy situation in the county and not to the growth of the US currency.
In the end of the week the releases from the USA, which can affect the pair, will be published. Today the Industrial Production and employment market data, and tomorrow the Consumer Price index are expected.
Support and resistance
Yesterday the pair left the downward channel, broking its upper border. Today the pair continued to fall due to the grown of the demand on the USD, which is restoring the investors' trust, but any negative main economy sector releases from the USA will cause the outflow of the assets from the US dollar, and the pair will form an upward trend.
Last few months all the indicators reflect the increase of the economy growth rate in New Zealand, so the growth of the pair can be expected in the middle term period. On the 4-hour chart technical indicators confirm the reversal, MACD reflects the rapid decrease of short positions volume, and Bollinger Bands are pointed sideways, showing slow reversal.
Support levels: 0.7275, 0.7200, 0.7130, 0.7050, 0.6970, 0.6810.
Resistance levels: 0.7335, 0.7370, 0.7420, 0.7455, 0.7550, 0.7600.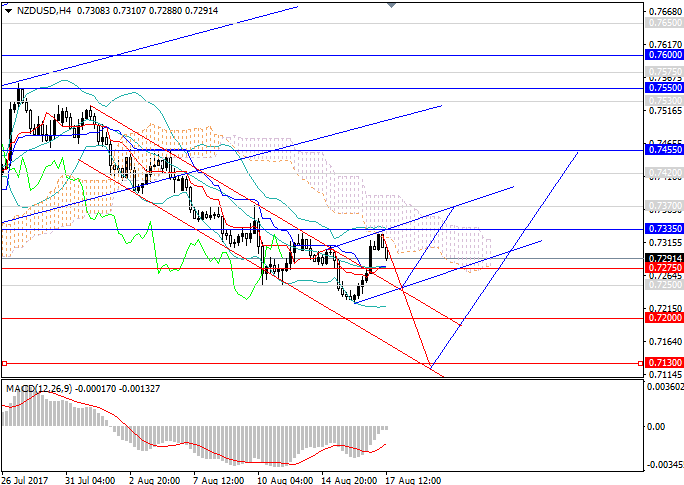 Trading tips
It's better to increase the volume of long positions at the current level in and open pending long positions from the levels of 0.7250, 0.7200, 0.7130 with the target at 0.7455, 0.7550 in the middle term period, stop loss is 0.7080.