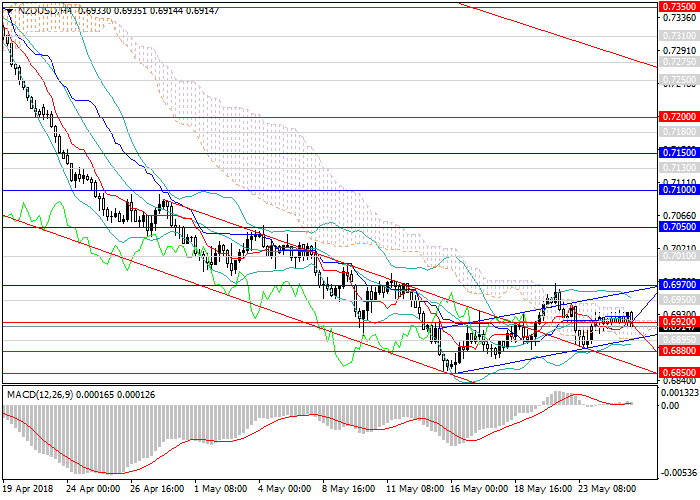 NZD/USD: return to a downward trend – in the future
25
May
2018, 14:38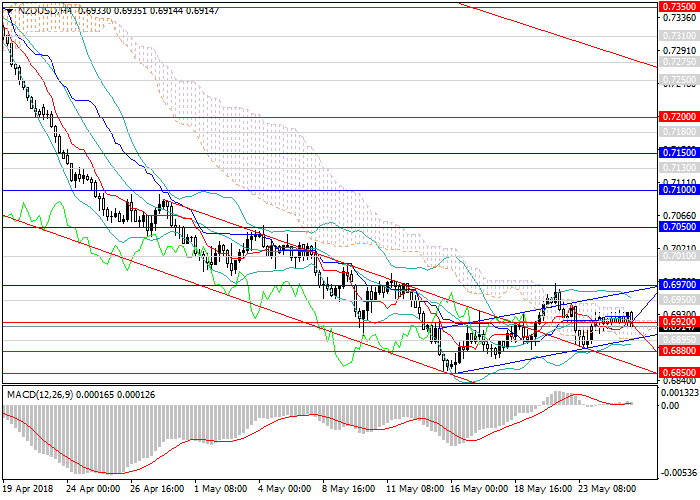 Scenario
Timeframe
Weekly
Recommendation
SELL
Entry Point
0.6916
Take Profit
0.6850, 0.6730
Stop Loss
0.6975, 0.7060
Key Levels
0.6730, 0.6800, 0.6850, 0.6880, 0.6895, 0.6920, 0.6950, 0.6970, 0.7010, 0.7050, 0.7100, 0.7170
Alternative scenario
Recommendation
SELL LIMIT
Entry Point
0.6950, 0.7010
Take Profit
0.6850, 0.6730
Stop Loss
0.7060
Key Levels
0.6730, 0.6800, 0.6850, 0.6880, 0.6895, 0.6920, 0.6950, 0.6970, 0.7010, 0.7050, 0.7100, 0.7170
Current trend
The New Zealand currency, like most of the majors, has significantly weakened against USD since mid-April, having lost more than 500 points.
At the beginning of last week, the pair reached a key support level of 0.6850, from which it rebounded and moved to an upward correction. Later on, the upper border of the steep downward channel 0.6920 was taken, and the instrument went up. Now the pair is forming a new corrective ascending channel in view of falling demand for USD due to the fixation of short positions at local lows, despite favorable data on major indices.
US data on orders for durable goods and the consumer sentiment index will be published today.
Support and resistance
At the moment, the medium-term main scenario remains the same - the fall of the pair within the downtrend. There are two short-term forecasts. The first is the preservation of the short-term upward momentum within the ascending correction channel with targets of 0.6770, 0.7010, from which a new wave of the medium-term main trend will form. The second is taking the lower border of the correctional channel, the subsequent return to the descending channel and movement to new local minima within it.
Technical indicators confirm the fall outlook: MACD points to a slight drop in the volume of short positions (which still remains impressive), Bollinger Bands are directed down, the medium sliding is at a resistance level of 0.6950, showing its strength.
Support levels: 0.6920, 0.6895, 0.6880, 0.6850, 0.6800, 0.6730.
Resistance levels: 0.6950, 0.6970, 0.7010, 0.7050, 0.7100, 0.7170.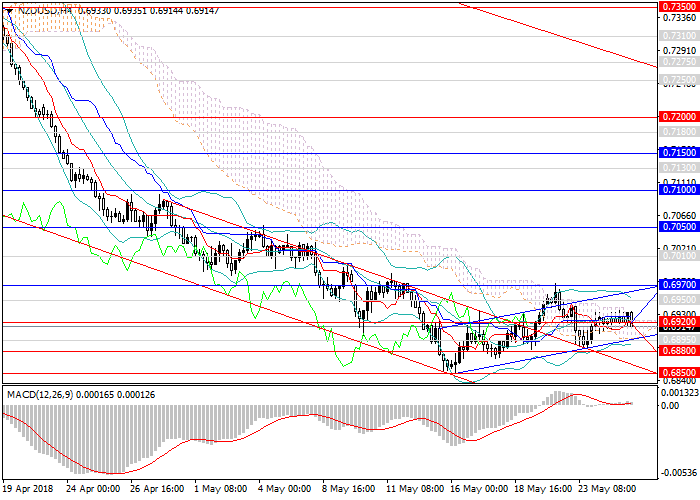 Trading tips
Short positions may be opened from the current level; pending orders can be opened from levels of 0.6950, 0.7010 with targets at 0.6850, 0.6730 and the stop-loss at 0.7060.