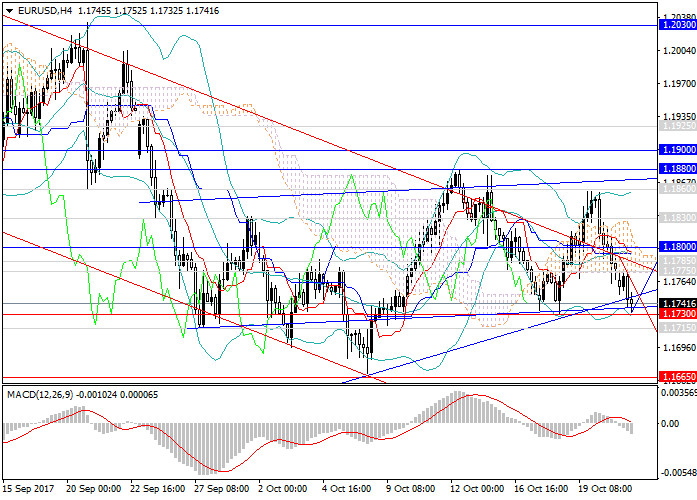 EUR/USD: side tendency remains
23
October
2017, 13:54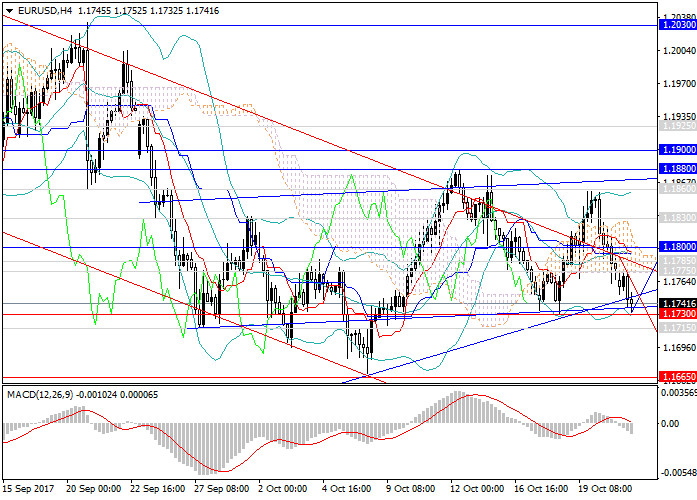 Scenario
Timeframe
Weekly
Recommendation
BUY
Entry Point
1.1737
Take Profit
1.1800, 1.1880
Stop Loss
1.1630
Key Levels
1.1430, 1.1500, 1.1570, 1.1600, 1.1665, 1.1715, 1.1730, 1.1775, 1.1785, 1.1800, 1.1830, 1.1860, 1.1880, 1.1900, 1.1925, 1.2000
Current trend
Euro has been trading in the wide side channel against USD since the beginning of October. The main catalyst for the change in the current trend and movement to the side tendency was the growth of investors' interest to the US currency in view of positive fundamental background and further tightening of the monetary policy by the Fed.
The paid got under additional pressure after the comments of ECB head on Eurozone monetary policy. Mario Draghi pointed out that for the economy to restore it still needs serious fiscal stimulation. At the same time, the issue with Catalonia is a serious one, which puts pressure on euro.
During the week special attention should be paid to ECB decision on the interest rate and releases on key indexes and inflation. The USA will respond with durable goods orders, labor market, and GDP for Q3 2017.
Support and resistance
Today the pair dropped to the key support level of 1.1730 that will be difficult to break through. It is very likely to be corrected from this level with target at 1.1800. In this case the pair will continue to move within side consolidation. An alternative scenario will be reaching the level of 1.1730 and further decrease to the local minimum of early October at 1.1665. In this case the pair will consolidate in the downward range and the possibility of testing new maximums will considerably increase. The most likely target for this scenario is 1.1500, the lower border of downward range. Technical indicators don't give a clear signal about the growth or fall of the pair which indicates high possibility of consolidation in the side tendency.
Support levels: 1.1730, 1.1715, 1.1665, 1.1600, 1.1570, 1.1500, 1.1430.
Resistance levels: 1.1775, 1.1785, 1.1800, 1.1830, 1.1860, 1.1880, 1.1900, 1.1925, 1.2000.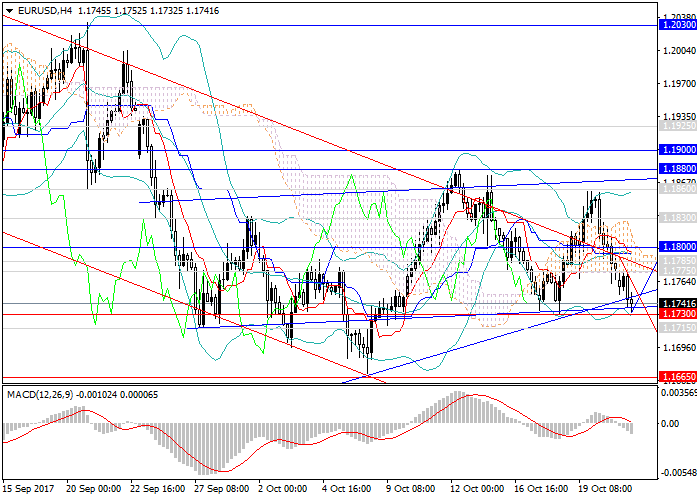 Trading tips
In this situation long positions may be opened from the current level with targets at 1.1800, 1.1880 and stop-loss at 1.1630.