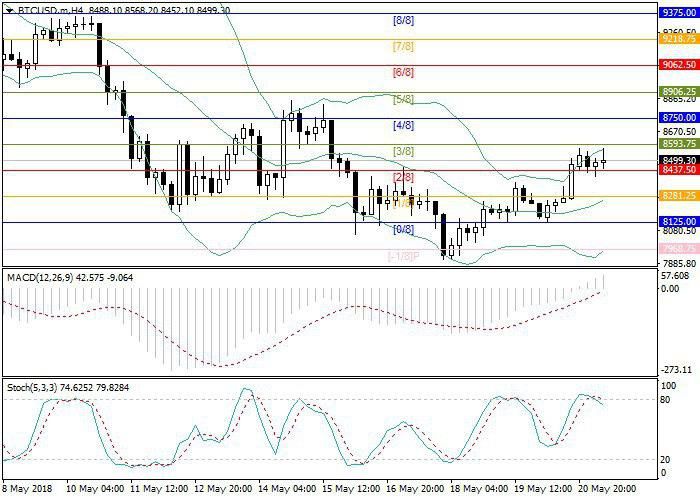 Bitcoin: technical analysis
21
May
2018, 11:31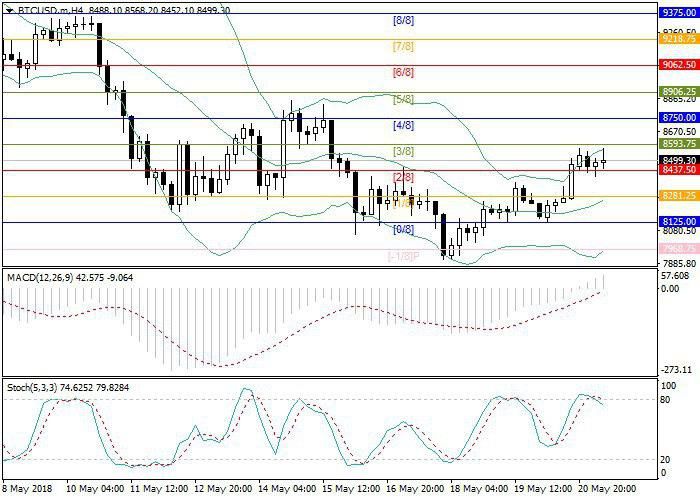 Scenario
Timeframe
Intraday
Recommendation
BUY STOP
Entry Point
8600.00
Take Profit
8750.00, 8906.25
Stop Loss
8500.00
Key Levels
8125.00, 8281.25, 8437.50, 8593.75, 8750.00, 8906.25
Alternative scenario
Recommendation
SELL STOP
Entry Point
8400.00
Take Profit
8281.25, 8125.00
Stop Loss
8531.00
Key Levels
8125.00, 8281.25, 8437.50, 8593.75, 8750.00, 8906.25
Current trend
Bitcoin quotes show positive dynamics for three consecutive trading sessions.
Bitcoin still can not gain a foothold above a strong resistance level in the area of 8593.75 mark (Murray [3/8]). After the re-test of this level, the course can reverse and the formation of a downward correction to the level of 8281.25 (Murray [1/8]), which also coincides with the midline of Bollinger Bands, is possible. Breakout and consolidation of the price above the level of 8593.75 will open the prospect of growth to the area of 8906.25 (Murray [5/8])–9062.50 (Murray [6/8]).
Technical indicators mainly keep the signal for purchase, while the possibility of developing a downward correction is not excluded. MACD histogram is growing in the positive zone. Bollinger Bands are directed upwards. Stochastic left the oversold zone and is directed downwards, indicating the development of downward correction.
Support and resistance
Support levels: 8437.50, 8281.25, 8125.00.
Resistance levels: 8593.75, 8750.00, 8906.25.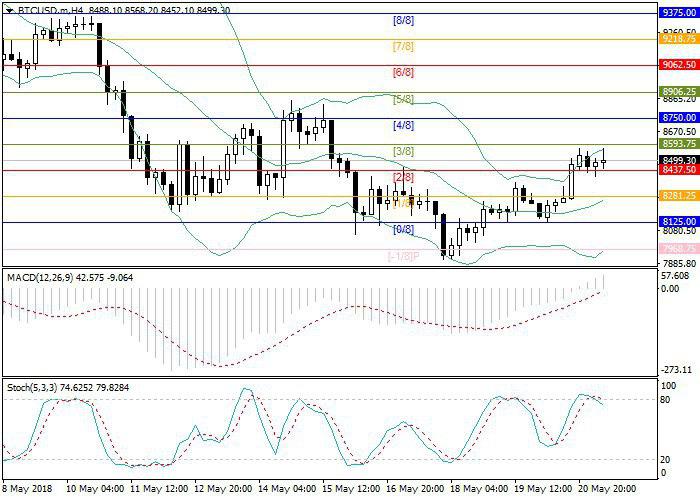 Trading tips
Buy positions may be opened above the level of 8593.75 with targets at 8750.00–8906.25 and stop-loss at 8500.00.
Sell positions may be opened below the level of 8437.50 with targets at 8281.25–8125.00 and stop-loss at 8531.00.