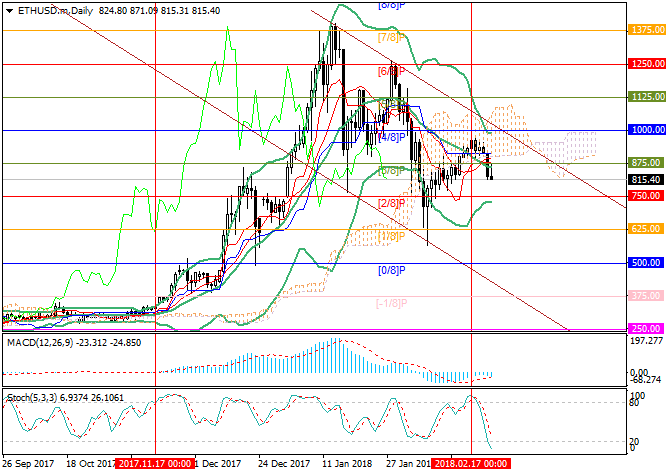 Ethereum: general review
22
February
2018, 12:59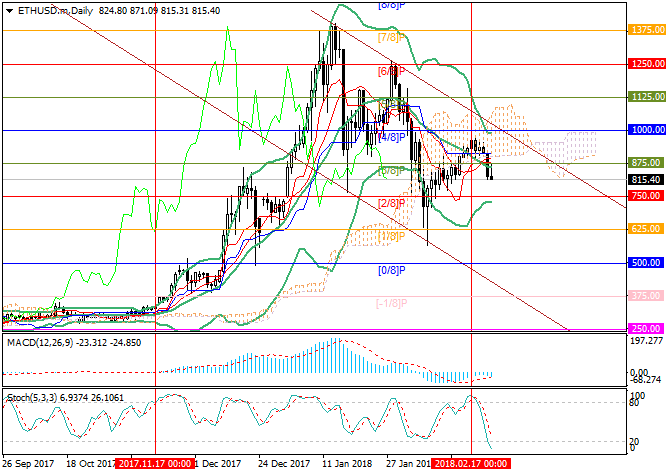 Scenario
Timeframe
Weekly
Recommendation
SELL
Entry Point
819.99
Take Profit
750.00, 625.00
Stop Loss
860.00
Key Levels
500.00, 625.00, 750.00, 875.00, 1250.00, 1125.00, 1000.00
Alternative scenario
Recommendation
BUY STOP
Entry Point
885.00
Take Profit
1000.00, 1125.00
Stop Loss
830.00
Key Levels
500.00, 625.00, 750.00, 875.00, 1250.00, 1125.00, 1000.00
Current trend
This week, Ether quotes decreased, and now the instrument is traded around 820.00. In the absence of serious fundamental factors, the decline is of a technical nature.
Important news include the intention of several projects on the Ethereum platform (Cosmos, OmiseGO, Golem, Maker, Global Brain, Raiden) to create a single Ethereum Community Fund to provide grants for solving the scalability problem. Also, the UN World Food Programme is actively testing the Ethereum blockchain for the implementation of targeted humanitarian assistance. The technology allows WFP to save significant funds on bank transfers and commissions.
The discussion continues on the future of the crypto-currency. While some representatives of financial institutions call for their use and even try to regulate the process of trade, others speak about them with disdain. On Wednesday, BoE head Mark Carney noted that Bitcoin showed its inconsistency: compared with traditional money, it is not preserving capital and is not used as a means of exchange.
Support and resistance
Technically, the price went out the Murrey trade corridor, consolidating below the level of 875.00 (Murrey [3/8], the middle line of Bollinger Bands), and has the potential for further reduction to the levels of 750.00 (Murrey [2/8]) and 625.00 (Murrey [1 /8]). However, Stochastic entering into the oversold zone does not exclude the possibility of a reverse and a price increase to 1000.00 (Murrey [4/8], the upper boundary of the descending channel) and 1125.00 (Murrey [5/8]) marks.
Support levels: 750.00, 625.00, 500.00.
Resistance levels: 875.00, 1250.00, 1125.00, 1000.00.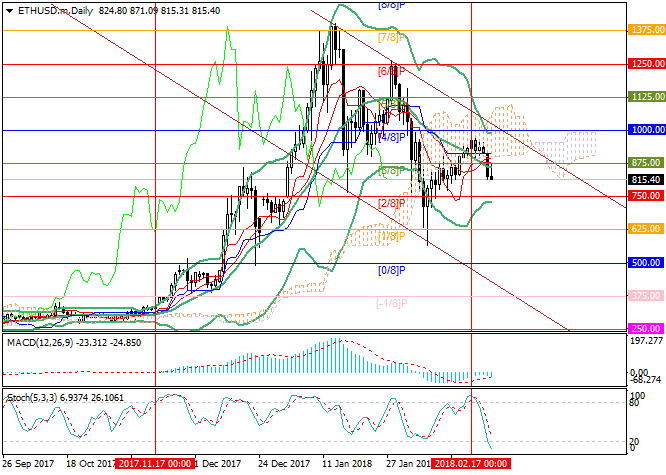 Trading tips
Short positions may be opened at the current price with targets at 750.00, 625.00 and stop-loss at 860.00. Long positions may be opened in case of breakout the level of 875.00, and targets will be 1000.00 and 1125.00. Stop-loss may be placed at 830.00.