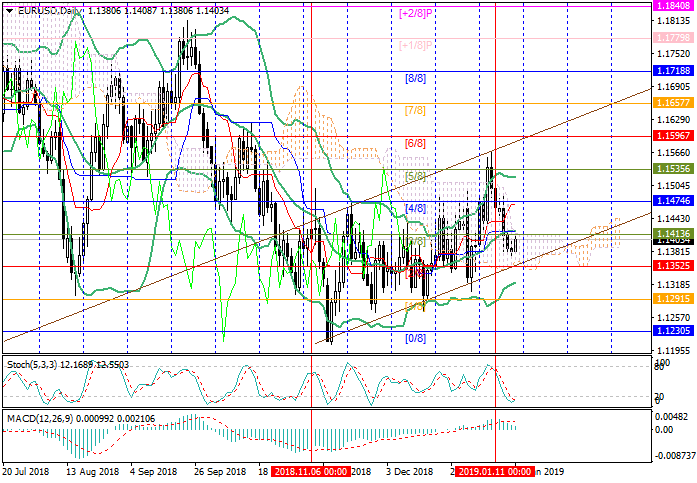 EUR/USD: general analysis
18
January
2019, 13:42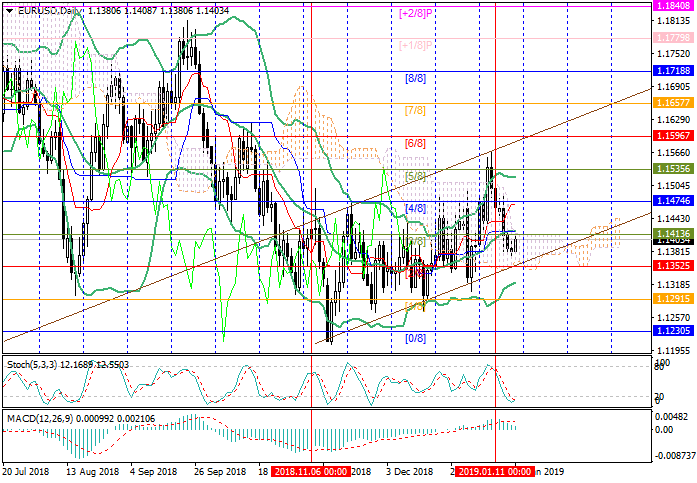 Scenario
Timeframe
Weekly
Recommendation
BUY STOP
Entry Point
1.1420
Take Profit
1.1474, 1.1535
Stop Loss
1.1370
Key Levels
1.1230, 1.1290, 1.1352, 1.1413, 1.1474, 1.1535
Alternative scenario
Recommendation
SELL STOP
Entry Point
1.1345
Take Profit
1.1290, 1.1230
Stop Loss
1.1380
Key Levels
1.1230, 1.1290, 1.1352, 1.1413, 1.1474, 1.1535
Current trend
On Friday, the EUR/USD pair is growing due to the news of the possible cancellation of part of US fees on Chinese exports. According to The Wall Street Journal, Finance Minister Stephen Mnuchin suggested cancel a part of the increased taxes to achieve a breakthrough in trade negotiations. This decision is opposed by US Trade Representative Robert Lighthiser, who believes that China can regard this move as a sign of weakness. The US Treasury denied this information but the market remained optimistic. The head of the Chicago Fed Charles Evans said that a pause in raising interest rates is possible. He noted that the current source of uncertainty is a recession in the EU and Chinese economies, as well as the consequences of the US-China trade war and the Shutdown in the United States.
Today, December US Industrial Production data will be released. The indicator is expected to fall from 0.6% to 0.2%, which may affect USD negatively.
Support and resistance
The pair is testing the level of 1.1413 (Murrey [3/8]) around the midline of Bollinger bands. After the breakout, growth to 1.1474 (Murrey [4/8]) and 1.1535 (Murrey [5/8]) is possible, which is confirmed by Stochastic, reversing upwards in the oversold zone. A significant decrease is possible after consolidation below the lower border of the upward channel around ​​1.1352 (Murrey [2/8]). In this case, the instrument can reach 1.1290 (Murrey [1/8]) and 1.1230 (Murrey [0/8]).
Resistance levels: 1.1413, 1.1474, 1.1535.
Support levels: 1.1352, 1.1290, 1.1230.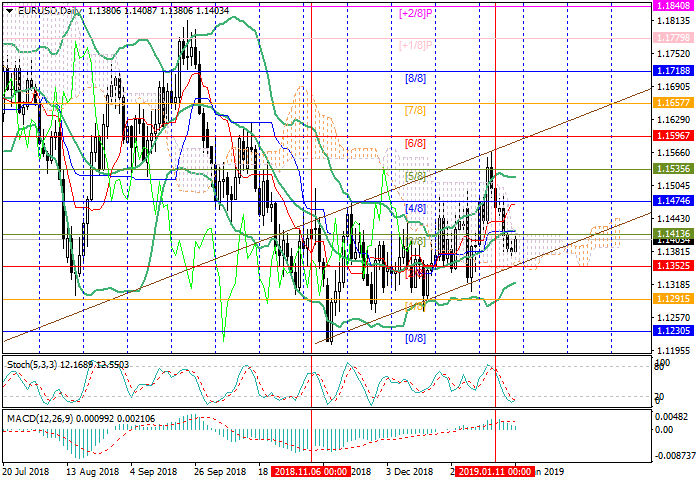 Trading tips
Long positions can be opened after the consolidation above 1.1413 with the targets at 1.1474, 1.1535 and stop loss around 1.1370.
Short positions can be opened below 1.1352 with the targets at 1.1290, 1.1230 and stop loss 1.1380.
Implementation period: 4–5 days.