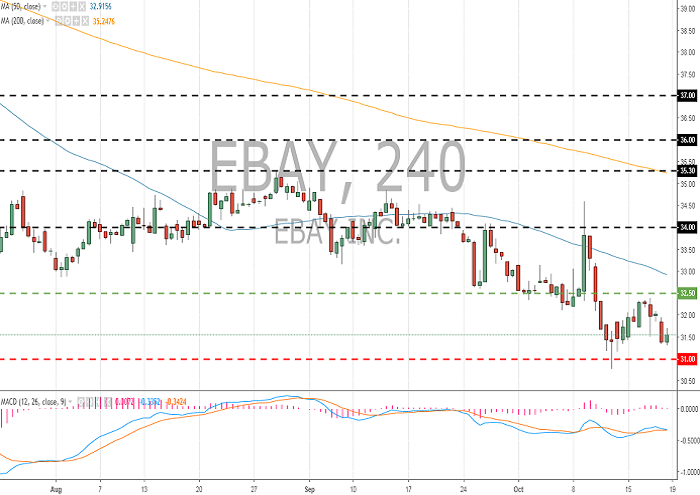 eBay Inc. (EBAY/NASD): general analysis
19
October
2018, 12:01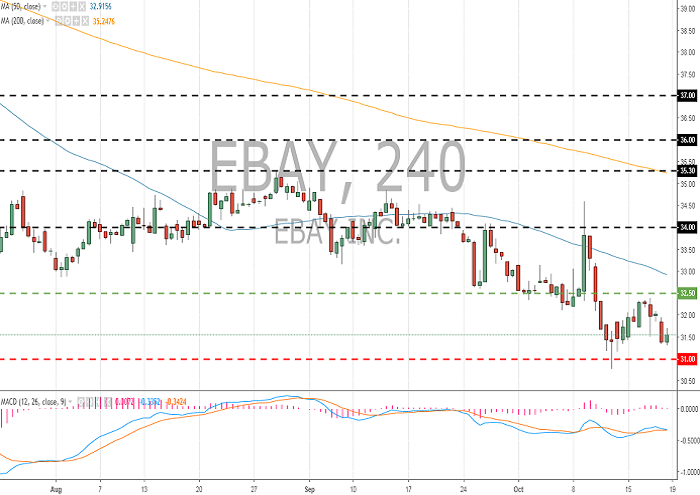 Scenario
Timeframe
Intraday
Recommendation
BUY STOP
Entry Point
32.55
Take Profit
34.00, 35.00, 36.00
Stop Loss
31.00
Key Levels
29.75, 31.00, 32.50, 34.00, 35.30
Alternative scenario
Recommendation
SELL STOP
Entry Point
30.90
Take Profit
28.50, 27.00
Stop Loss
32.50
Key Levels
29.75, 31.00, 32.50, 34.00, 35.30
Current trend
Since the beginning of October, eBay shares have declined by 4.4% and are now trading at a premium of 0.5% to a 52-week low. The company specified the date of Q3 report and plans to publish its financial results next week, October 24, after the market closes. Revenue is expected to grow by 10.5% YoY to $2.66 billion from 14.6% YoY with an increase in adjusted net income per share to $0.55.
During the last week, eBay rose 0.48% against the index of 1.47%.
Support and resistance
Shares of the company are trading horizontally. The technical picture is ambiguous. #EBAY quotes test local support and Resistance levels at 31.00 and 32.50, respectively. In the near future, a correction after a prolonged fall is not excluded. Indicators do not give accurate signals: the price has fixed below MA (50) and MA (200); MACD histogram is near the zero line. It is better to open the positions from the key levels.
The comparative analysis of the indicators of the company and its competitors suggests that the shares are underestimated.
Resistance levels: 32.50, 34.00, 35.30.
Support levels: 31.00, 29.75.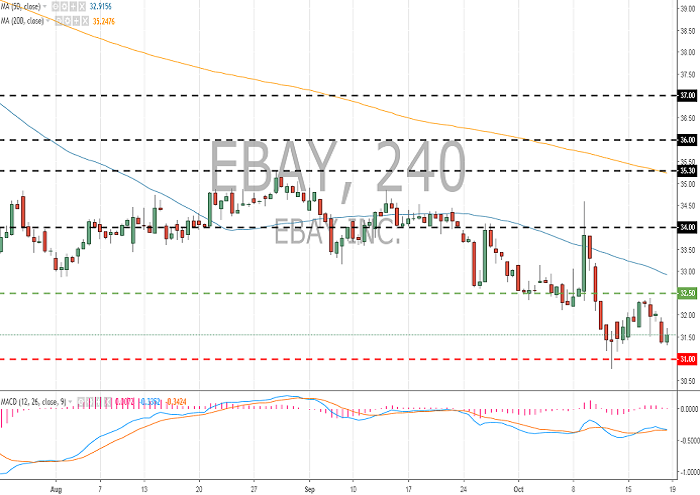 Trading tips
Long positions can be opened after the price is set above the level of 32.50. The closing of the profitable positions is possible at the levels of 34.00, 35.00 and 36.00. Stop loss is 31.00.
Short positions can be opened after the price is set below the level of 31.00 with the targets at 28.50–27.00. Stop loss is 32.50.
Implementation period: 3 days.